Written by

Haydar Demirhan, Senior Lecturer in Analytics, RMIT University
Many states are now ramping up the number of tests by relaxing the criteria for who can get tested for COVID-19. This should give us a better idea of whether the spread is easing or getting worse.
We get regular updates about COVID-19 with lots of data, figures and graphs with some interpretations to see if we are flattening the curve on the number of new cases.
But most of these are based on using only the total or the daily number of confirmed new cases.
Read more: How much has Australia really flattened the curve of coronavirus? Until we keep better records, we don't know
This does not provide enough information about whether the situation is improving, stabilising or getting worse. That is why we also need to consider the number of people tested daily for COVID-19.
For example, in percentage terms there is no actual difference between getting 20 positive cases out of 1,000 tests one day and 100 positive cases out of 5,000 tests the next. Both lead to the conclusion we have 2% reported infected people of those tested.
If we are only given the number of new cases, getting 100 in a day sounds a lot worse than getting 20. The 2% percentage figure here tells us things are pretty much the same over the two days.
Curves and trends
Take Victoria, if we look at the total number of confirmed cases we see it followed an exponential trend for a while – one that was increasingly rising – and then started to divert on April 3.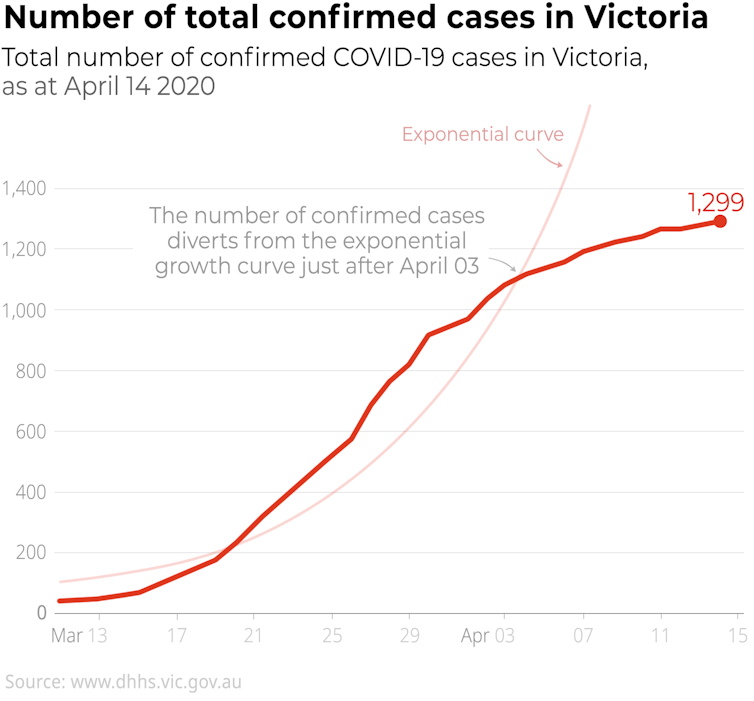 Authors: Haydar Demirhan, Senior Lecturer in Analytics, RMIT University
Read more https://theconversation.com/more-testing-will-give-us-a-better-picture-of-the-coronavirus-spread-and-its-slowdown-135698