Written by

Nic Geard, Senior Lecturer, School of Computing and Information Systems, University of Melbourne; Senior Research Fellow, Doherty Institute for Infection and Immunity, University of Melbourne
By international standards, Australia has had considerable success in containing the COVID-19 outbreak. As the number of new cases continues to decline, several states have announced they will begin to ease restrictions.
But debate about when and how we can ease physical distancing measures safely remains ongoing.
Modifying restrictions too soon, or making too many changes concurrently, could easily see a resurgent second wave of COVID-19.
Read more: 6 countries, 6 curves: how nations that moved fast against COVID-19 avoided disaster
To prevent this, we need to ensure any new infections in the community are detected promptly, and their contacts traced to contain transmission as early as possible.
Sentinel surveillance – or testing randomly in the community – could help us with this.
Testing is key
Testing provides our window onto the extent of infection in a population: where we look determines what we see.
The differences in reported case numbers between different countries can be at least partially attributed to different levels of testing. For example, if testing is restricted only to patients in hospital, less severe cases won't be counted.
To be confident transmission doesn't increase as distancing measures are lifted, we will need to test broadly, and strategically, across the population.
Read more: What might trigger a return to 'normal'? Why our coronavirus exit strategy is ... TBC
So who do we test?
Testing is a finite resource: health services need physical kits to conduct the tests, and laboratories need time and people to analyse samples. So testing efforts are concentrated where they're most likely to aid control efforts.
The decision to test someone is guided by testing criteria, which in Australia are set at the state and territory level.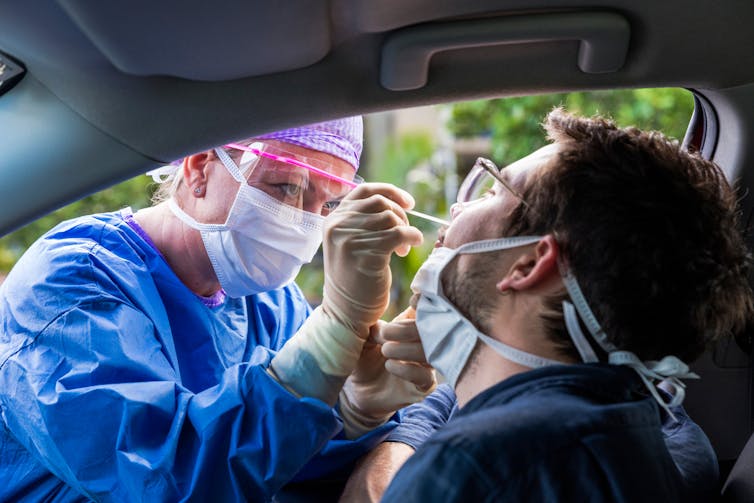 Shutterstock
In the early stages of Australia's outbreak, the greatest risk of infection was among people arriving from overseas. Testing understandably focused on this group, as well as people who had been in contact with confirmed cases.
At that time, and since, Australia has maintained one of the highest rates of testing globally.
As the number of cases imported from overseas fell, attention shifted to transmission occurring in the community. From early April, testing criteria were expanded nationally to include any health-care and aged care workers who developed respiratory symptoms.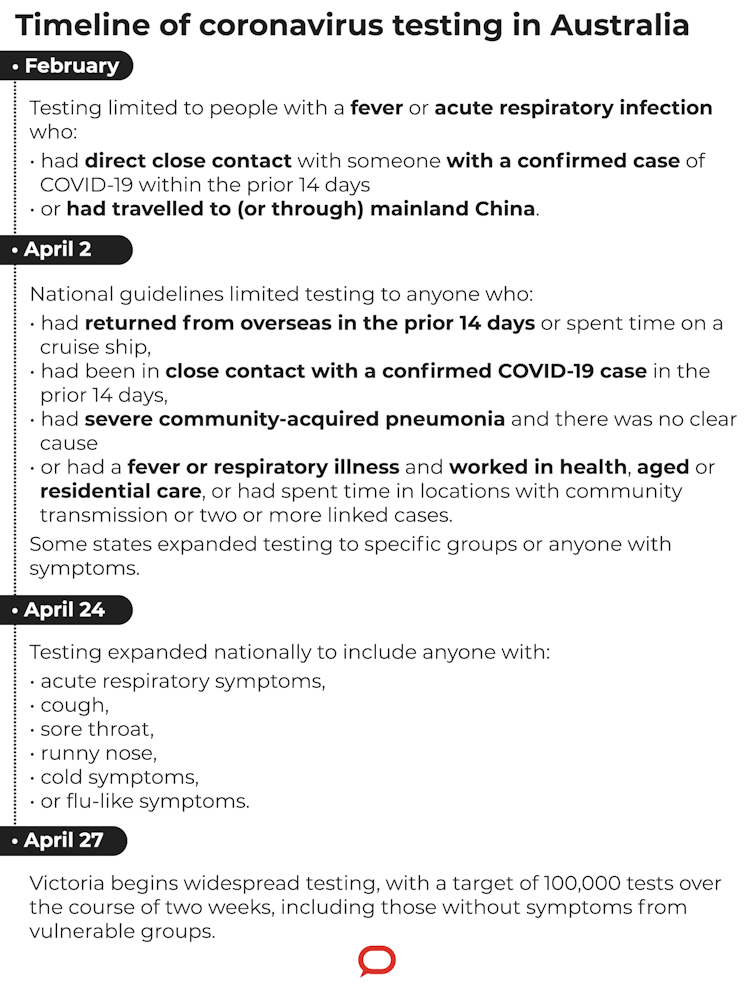 Authors: Nic Geard, Senior Lecturer, School of Computing and Information Systems, University of Melbourne; Senior Research Fellow, Doherty Institute for Infection and Immunity, University of Melbourne
Read more https://theconversation.com/what-is-sentinel-surveillance-and-how-might-it-help-in-the-fight-against-coronavirus-136845