Written by

Tony Walker, Adjunct Professor, School of Communications, La Trobe University
In September 2005, before an audience of some of the most powerful business figures in the United States, then US Deputy Secretary of State Robert Zoellick unveiled his "responsible stakeholder" formula for China's global engagement.
China is big and growing… For the United States and the world the essential question is how will China use its influence… We need to urge China to become a responsible stakeholder in that system.
This is how the China as a "responsible stakeholder" template for the West's conduct of relations with an emerging power was born. It was not a superpower at that stage, but a rising one.
Later in that same speech, Zoellick added:
Many Americans worry that the Chinese dragon will prove to be a fire breather. There is a cauldron of anxiety about China.
If there was a "cauldron of anxiety" then, it is "cauldron of paranoia" now as the US slips towards a new Cold War.
It's not there yet, but the possibility of a permafrost can't be discounted. This would include a decoupling of the US and Chinese economies and a deepening technology war in which competing technologies would seek to get the upper hand inside and outside cyberspace. It would also include an all-out arms race.
Rising tensions
Washington's campaign to deprive China's telecommunications giant Huawei from access to US-designed microchips for its artificial intelligence processors, mobile phones and networking capabilities is aimed squarely at denying the Chinese company a technological edge.
The Huawei decision is one of several designed to squeeze Chinese access to US technology, and in the process disrupt global supply chains.
China regards the US campaign against Huawei as highly provocative, if not war by another means.
These are sobering moments as the world contemplates getting dragged into a "cauldron" of superpower tension not witnessed since the 1950s.
Read more: Australia has dug itself into a hole in its relationship with China. It's time to find a way out
Middle-sized players like Australia risk getting trampled. Prime Minister Scott Morrison is discovering to the cost of his country's agriculture and mining sectors that it is better to stay out of the way of bull elephants in a global jungle. His ill-advised solo intervention in calls for an independent inquiry into a pandemic has backfired as China picks off vulnerable Australian exports for reprisals.
An American "cauldron of anxiety" has spilled over.
The US problem
I was in that New York City hotel ballroom for the Zoellick speech as North American correspondent for The Australian Financial Review. I had no doubt it was a significant moment in America's attempts to address an emerging challenge from an economically resurgent China, but this challenge needed to be kept in proportion.
Bear in mind China's president at the time was the cautious bureaucrat, Hu Jintao. The country had not yet left behind paramount leader Deng Xiaoping's advice to colleagues that when it came to demonstrating China's newfound might, it was better to "hide your capabilities, bide your time".
It was seven years before the "China first" Xi Jinping became China's most powerful leader since Deng, and possibly since Mao Zedong himself.
Zoellick's speech was delivered more than a decade before a New York property developer named Donald Trump became an "America first" president ill-equipped to deal with complexities involved in managing a relationship with a surging China.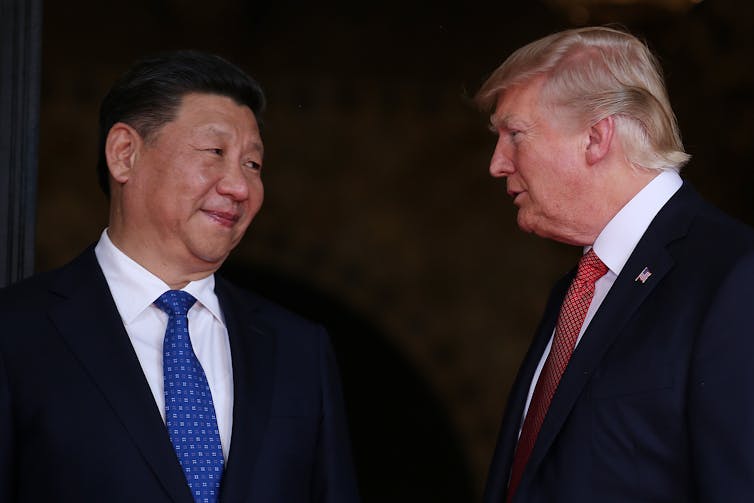 Authors: Tony Walker, Adjunct Professor, School of Communications, La Trobe University
Read more https://theconversation.com/beware-the-cauldron-of-paranoia-as-china-and-the-us-slide-towards-a-new-kind-of-cold-war-139023