Written by

Stephanie of Villa-Finder.com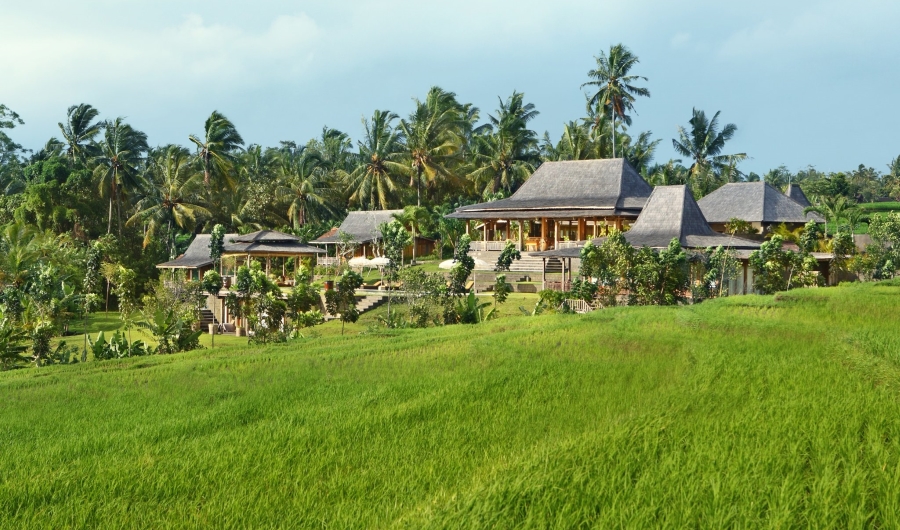 Bali is just a small island in the massive Indonesian archipelago and yet it is unlike anywhere else in the world. The Balinese Hindu culture is unique and though the island is only small, it is surprisingly diverse and stunningly beautiful. No wonder Bali is such as popular travel destination for people from all over the world. Here are 5 reasons to travel to Bali:
1. A cultural and spiritual experience
Is it the culture, the temples, the rugged holy volcanoes, the river valleys or the rice paddy bliss? Bali Island has something magical and once you have spent time on the island, you'll know why the island is nicknamed 'the island of the Gods' and 'the island of a thousand temples. The Balinese live with Gods: there are beautiful handmade offerings found in front of houses and shops, in shrines, on the beach, everywhere! All the Gods that roam this island need to be respected and honoured and so they are. You'll witness ceremonies on the streets, you'll hear the mystical music and you will get enchanted - there is just no way around it. A trip to Bali, whether or not you practice yoga and meditation in Ubud, is a cultural and a spiritual experience!
2. Beach life for everyone
Everyone loves the beach but no matter what kind of beach lover you are, Bali has got something for you! Whether you are into waves and surf breaks, isolated, desolate beaches bordering calm blue waters that conceal an underwater paradise of exotic fish beneath the surface or lively beaches with beach clubs and beach bars - Bali has it all! For the most stunning white sandy beaches located beneath high limestone cliffs, head to Uluwatu, for cocktails, beach clubs, surfers and livelihood, stick around in Seminyak and Canggu or head to the quieter alternative, Sanur. The rest of the island features mostly black sand volcanic beaches and calm waters, beautiful and tranquil places perfect for relaxing, swimming, snorkelling and diving.
3. The foooood!!!
Rich local spices, fresh produce, lots of chillies and ancient cooking traditions and recipes, the food alone is a great reason for you to visit Bali.The best places to get your hands on authentic local food is at food stalls and warungs. Nothing fancy but more than perfect! Just enter a local warung and go try a plate of nasi campur, which means 'point at dishes in the display to go with your portion of steaming hot rice'. There are veggies, crispy tempe, soft tofu, chilli eggs, tasty chicken curries, beef rendang, sate and it comes with a good spoon of sambal on the side. Yum! Traditional Balinese dishes you must try are 'babi guling'', which means suckling pig and 'ayam betutu' which is steamed chicken stuffed with local spices. Still have space for dessert? Try the black rice pudding.
4. Leisure in luxury
Another big advantage of holidaying in Bali is that you can enjoy an absolute luxury stay at prices you won't believe. Yes, experience the local culture, stroll around markets and bargain for a good price and try out the food at local warungs, but when it comes to accommodation, you can splurge out. You can have a private pool luxury villa with Balinese charm and modern comforts at beautiful locations with stunning views to kiss you away in the morning and it won't cost you an arm and a leg. The offer of luxury villas is abundant and there is something for every budget! Check out Bali's private pool villas here.
5. Buzzing towns & sleepy villages
Like I said before, Bali is super diverse, making it an attractive destination for all kinds of travellers. The island is home to lively, colourful, buzzing towns where you can shop till you drop, go wine and dine at exquisite restaurant and dance till sunrise at bars and beach clubs but at the same time, there are also many quiet, sleepy traditional fishermen's villages where you can really recharge your body, mind, soul and spirit and wake up to the most stunning views imaginable. Want to have all? Combine chic and classy Nusa Dua with happening Seminyak, cultural Ubud and pristine villages such as Amed, Candidasa, Pemuteran and Lovina. Your trip to Bali will be unforgettable! Enjoy!
Written by Stephanie of Villa-Finder.com