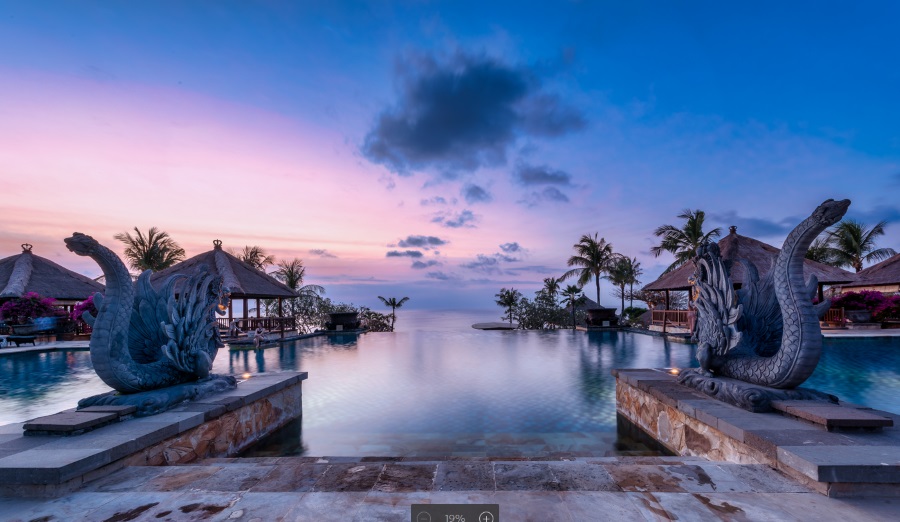 AYANA Resort and Spa, BALI for magical multi-generational travel
SYDNEY, Australia - 10 October 2018: Whether it's a significant birthday, anniversary, wedding or milestone celebration, multi-generational family vacations are growing increasingly popular, and finding a resort equipped to entertain guests of all ages can be tricky…but it needn't be.
With its close proximity and easy airline access from Australia, Bali is an appealing location for the whole family. The luxury integrated AYANA Resort and Spa, BALI, dramatically perched atop a cliff overlooking beautiful Jimbaran Bay, and its sister property RIMBA Jimbaran BALI by AYANA, boast an array of options to entertain everyone - from toddlers to teens, to Mums, Dads and grandparents.
All resort guests can access and enjoy the facilities of both AYANA Resort and Spa, BALI and its sister property RIMBA, with 12 swimming pools and waterslides and 19 restaurants and bars and the resort's exclusive white sandy beach, Kubu at your fingertips. A frequent complimentary shuttle is on hand to ferry guests back and forth between the two properties.
With activities for the entire family to enjoy, get physical with local cycling trails, jogging the resort's forested pathways or a competitive game of golf. For something more laid back, try your hand at local batik craft, put an apron on for a Balinese cooking class at the resort's dedicated cooking school, or spend a morning making your very own perfume in the divine L'Atelier Parfums.
For a fun family day out, take your tastebuds on a gourmet tour of the traditional local markets, discover the catch of the day at the Jimbaran Fish Markets, visit Uluwatu Temple or discover Balinese heritage on a roam through the gardens and statues of GWK Cultural Park.
Kids will keep busy with a schedule of engaging activities at the recently renovated Kids' Club, which is home to a trampoline, kids' billiards table, playground equipment, table tennis table, flat screen TV and games consoles. The programs in the Kids Club change daily, with activities ranging from traditional dance, craft, dress-ups and games, to chef-led cooking classes and kite-making & flying. There's also a babysitting service available upon request.
Parents and grandparents in need of some quality down time can bliss out at the Thermes Marins Spa, voted the 'World's Best Spa' by Conde Nast. The spa is also home to one of the world's largest Aquatonic Pools. Soak in 700 million litres of aqua therapy, while practising Thalassotherapy (using seawater as a healing tool). Thalassotherapy can banish jetlag, relieve symptoms of eczema, psoriasis, back and muscular pain, tension and stress, as well as improve muscle tone, reduce cellulite, improve metabolism and cardiovascular functioning, and even strengthen the immune system. 
Mealtimes are also made easy by the huge range of options at AYANA, meaning even the pickiest eaters are bound to find something to feast upon. From buffets and barbeques, to steak and seafood, Mexican and specialist afternoon teas - there's a reason Bali is renowned for its flavoursome food. For traditional Balinese fare, treat the entire family to a captivating Kecak dance performance under the stars during dinner at Kampoeng Bali restaurant. One of the most Insta-grammable bars in the world, Rock Bar, BALI is located at AYANA, and hotel guests receive priority access and the best seats in the house for the most spectacular Balinese sunset.
Family Offers
The second room at 50% offer allows families to enjoy the perfect mix of privacy and family-fun as they spread out over connecting rooms. This offer is valid until 28 December and includes buffet breakfast each day for four people.  For more information: www.ayana.com/bali/ayana-resort-and-spa/offers
Book your holiday 30 days in advance and enjoy up to 20% off accommodation as well as a 20% discount on all food and drink at Rock Bar, BALI during your stay period. This offer is valid until 28 December. For more information: www.ayana.com/bali/ayana-resort-and-spa/offers/accommodation/early-book-ayana
About AYANA Resort and Spa BALI, The Villas at AYANA and RIMBA Jimbaran BALI by AYANA
This luxurious resort located in stunning southern Bali is a unique award-winning destination for leisure and business travellers alike, whether they seek an intimate couples' retreat, a fantasy family playground, an awe-inspiring event venue, or state-of-the-art business retreat facilities. With a name meaning "place of refuge" in Sanskrit, the tropical-elegant AYANA Resort and Spa, BALI and The Villas at AYANA Resort are situated on the 90-hectare Karang Mas Estate, perched above majestic Jimbaran Bay, seven miles from Ngurah Rai International Airport. Chic RIMBA Jimbaran BALI by AYANA, with a name meaning "forest", nestles nearby on eight hectares of lush gardens within the same estate. Together they offer 78 private pool-villas, 697 guest rooms and suites, 12 pools, 19 restaurants and bars, 15 wedding venues, 19 indoor and nine outdoor meeting or event spaces and much more, all accessible by complementary shuttle service, together with stunning design details and unsurpassed service and amenities, including extensive spa and recreational facilities.