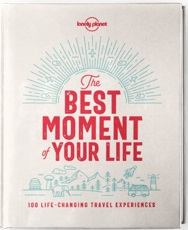 Discover 100 Life-Changing Travel Experiences with The Best Moment of Your Life from Lonely Planet
What's the best moment of your life? It's a simple question to ask, but a more challenging one to answer.
In Lonely Planet's The Best Moment of Your Life, published this month, notable names from the world of travel share their most remarkable, poignant and memorable experiences from the road – moments that changed them as individuals and reshaped their perspectives of the world.
This collection of 100 powerful, inspiring stories will encourage readers to think a little differently about the planet and reflect on the transformative power of travel.
Each featured experience is unique – both in how it plays out and how it has impacted the author. The collected tales convey the sheer variety of ways that travel can positively affect your life.
Experiences include:
High points and adventurous accomplishments: From summiting Yosemite's Half Dome and cycling 11,000km around the shores of the Mediterranean, to crossing the Gobi desert on foot and proving to yourself that parenthood won't curb your adventurous spirit.
Wading into your own history or that of others: Including witnessing the first free speech of Nelson Mandela and watching a space shuttle launch.
Experiencing the power and majesty of wildlife: From a captivating encounter with a mountain gorilla, to a fleeting glimpse of a snow leopard and a long-awaited tiger sighting.
Each story includes a powerful and moving account of how the experience unfolded and what it was like to be there right at that moment, as well as how the experience affected the author.  The book also features sumptuous photography and practical details on how to undertake the trip yourself.
The Best Moment of Your Life includes contributions from:
The first woman and youngest person to row solo across the Indian & Pacific Oceans, Sarah Outen MBE
Actor, travel adventurer and motorcycle enthusiast, Charley Boorman
World-leading adventure explorer, Benedict Allen
Actor, director and travel writer, Andrew McCarthy
Award-winning novelist, Suzanne Joinson
The Best Moment of Your Life
October 2018 | $29.99 AUD/$34.99 NZD | 1st Edition
216mm x 172mm | 272 pages
Hardback | ISBN: 9781787013575
About Lonely Planet:
Lonely Planet is a leading travel media company and the world's number one travel guidebook brand, providing both inspiring and trustworthy information for every kind of traveller since 1973. Over the past four decades, we've printed over 145 million guidebooks and grown a dedicated, passionate global community of travellers. You'll also find our content on lonelyplanet.com, mobile, video and in 14 languages, nine international magazines, children's, armchair and lifestyle books, ebooks, and more. Visit us at lonelyplanet.com or join our social community of over 14 million travellers. Find us on Facebook (facebook.com/lonelyplanet), Twitter (@lonelyplanet), Instagram (instagram.com/lonelyplanet) and Snapchat (@lonely.planet).