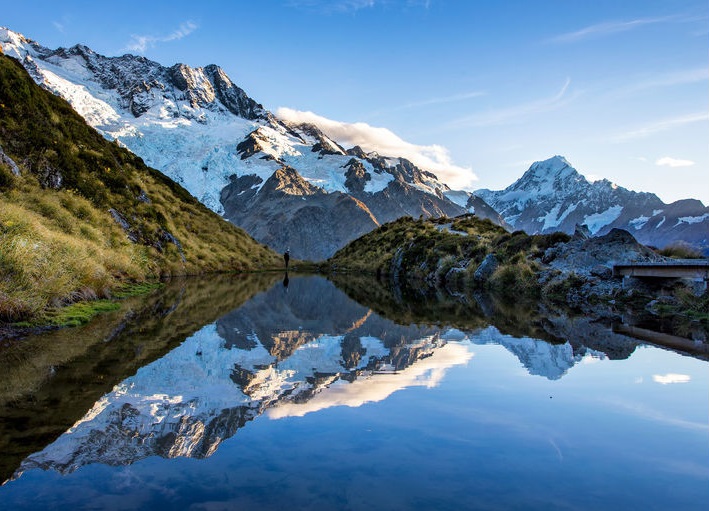 New Zealand's stunning landscapes, moderate temperatures, and long, sunny days make the country ideal for a road trip. When you're touring the country for the first time in your campervan hire New Zealand, you need to discover places perfect for an overnight stay. Fortunately, New Zealand's 13 national parks are well suited for campers, offering an array of camping options in many landscapes. Holiday parks also dot the New Zealand landscape, offering comfortable and convenient accommodations near some of New Zealand's must-see spots. Use this guide to identify the top campervan spots for your first visit to New Zealand.
Department of Conservation Camping
One simple way to discover suitable campsites in New Zealand is by searching for Department of Conservation campsites located along your route. In total, the DOC oversees more than 200 campsites that offer something for everyone, and most of these campsites welcome campervans. Select from several different campsites, including serviced campsites that offer amenities like hot showers and kitchens, standard campsites that provide basic amenities like a water supply and cold showers, and basic campsites that are designed for self-sufficient campers who don't need ample amenities.
Consider these campsites on Department of Conservation lands, which allow you to camp amid some of New Zealand's most picturesque landscapes:
*  Awana Beach Campsite: If you love to soak up the sun, relax on the sand, or surf the waves, Awana Beach Campsite in the Great Barrier Island. The campsite, which features 60 non-powered and tent sites, is just 300 metres away from the beach. This campsite is especially popular among surfers.

*  Brod Bay Campsite: Visit Southland and Fiordland National Park, where you can enjoy convenient camping at Brod Bay Campsite. This Great Walk Campsite is adjacent to Lake Te Anu, located in the beech forest on the shores of the lake. You can walk the Kepler Track, a 60-kilometre journey that allows you to tour forests and lakes and see alpine vistas.

*  Momorangi Bay Campground: Located in Queen Charlotte Sound, Momorangi Bay Campground features both powered and non-powered sites and is a good spot for families. You can swim, boat, and fish nearby. Plus, you'll be able to check out the famous glowworm caves to enjoy an experience you won't soon forget.
Holiday Parks
If you're a camping newbie, a holiday park might be best for your first trip to New Zealand. These amenity-rich parks offer scenic surroundings and ample activities to keep you busy. Plus, many are situated near popular tourist destinations, allowing you to explore New Zealand while you're there. These holiday parks offer activities, accommodations, and adventures perfect for New Zealand first-timers.
*  Mount Maunganui Beachside Holiday Park: This family-friendly holiday park in the Bay of Plenty is located at the base of Mount Mauao. Pilot Bay delivers plenty of activities for water lovers, including swimming, boating, and fishing. You'll also be able to experience the area's famous hot water pools, perfect for a relaxing dip.

*  Whakapapa Holiday Park: Explore the Tongariro National Park during your stay at this holiday park, located on Mount Ruapehu. This holiday park includes campervan sites, as well as other accommodation options. You'll be located near the Tongariro Alpine Crossing, which is known as one of New Zealand's best one-day hikes. Tongariro National Park is a dual World Heritage Site, thanks to its stunning natural features as well as its cultural significance.

*  Queenstown Holiday Park: Enjoy urban camping in Queenstown at a holiday park located just 4 minutes from downtown. Queenstown blends the area's natural beauty with metropolitan activities. You can enjoy cycling or hiking during the day and go on a boat cruise or shop and dine in downtown at night.
Responsible Freedom Camping
New Zealand also offers Responsible Freedom Camping, which permits campervan camping on public land sites. These areas do not offer any amenities, but camping is permitted. More than 500 Responsible Freedom Campsites exist throughout the country. The advantages of these sites is their quantity and flexibility. Chances are you'll never be too far from a spot to call home for the night. As a result, you can design an itinerary that suits your preferences and then discover nearby camping options. The disadvantages, of course, are the lack of amenities, but experienced campers will know how to go without. Always check the rules and regulations of these campsites because some limit the types of vehicles allowed.
New Zealand makes for an incredible road trip thanks to its unmatched landscapes. As you drive through the country in your campervan hire New Zealand, you can see glaciers, volcanoes, beaches, lakes, and so much more. You can visit remote island or large cities like Auckland. Whether you're road tripping through the North Island or South Island, you'll have access to an array of camping options. Department of Conservation campgrounds, holiday parks, and Responsible Freedom Camping are available throughout the country, giving you a convenient spot to stay as you explore New Zealand for the first time.