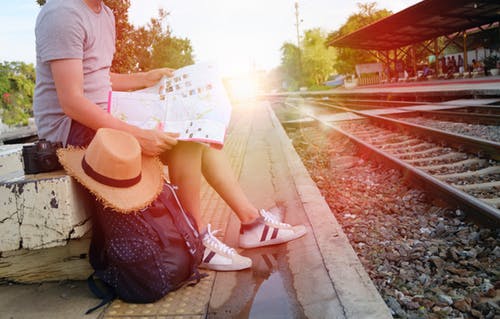 Traveling the world is on every little kid's bucket list, and it usually remains to be there among top three well into the age as well. However, what makes traveling so fun and exciting is the novelty it brings to your life. Sometimes it's the mere change of environment that we're in dire need of, while sometimes it's about the people, the weather or something else we're looking to change for a short while. Vacations grant us with memories for a lifetime to be cherished, stories to be shared, and experiences to learn from. Below we shared a list for you to keep in mind in order to help you make your next vacation a really memorable one.
1. Plan well, but don't overplan
People often mistake spontaneity for complete disorganization, believing it's what will bring adventure and excitement to their travel style. On the contrary, setting off to an unknown or little-known destination with no plan will only lead to frustration and disappointment. Plan well and plan in advance, but do not let your plans limit you and stand in the way of various possibilities you'll encounter on your trip. Be flexible and open to change your plans, but make sure to draft a basic itinerary in advance and stick to it, particularly for time and money management reasons.
2. Avoid traveling in peak season
Typically, everyone likes to visit places during their peak season, and hence the expensive accommodation, streets swarming with tourists and generally lower quality. If you're looking to make memories, experience the local culture and enjoy the very best of the city/country you're visiting, choose to go in shoulder season or the off-season.  
3. Meet the locals
The best way to experience a place and its culture is through locals. And, as mentioned above, the off-season is the best time for hanging out with the locals since everyone's back home from holidays, and they are more welcoming and friendly to tourists. Moreover, you'll have a chance to hear some first-hand anecdotes, try the best traditional home-made meals and learn a couple of phrases in the local language.
4. Get out of your comfort zone
It's understandable that not everyone is keen on adrenaline, adventure and risk while traveling. However, if you're looking for adventure, you certainly won't be able to find any within the realm of your comfort zone. Challenge yourself to try things which usually scare you and give you anxiety, but have been in the back of your mind for a way, hiding behind fear. Get a fun Japanese tattoo or body piercing and make sure it's a trip you'll definitely never forget. The very reason why you're traveling is to experience something different, feel and do things out of your ordinary life routines – so fear no uncomfortable or unexpected situations, because they are exactly the ones your adventurous side will benefit from the most.
5. Put down your phone and camera
However, tempting it is to take photos of everything you see, and record everywhere you move – don't. Your social media friends don't really care, and you'll only waste precious time and energy on your phone and camera, instead of using every opportunity to live it up. So, put down your phone and enjoy the present moment.
6. Get up early
Have you ever been on a 10-day journey and felt as if was nothing more than a 2-day trip? Unfortunately, it almost always feels like this. Days feel shorter when you're out there running around to explore and experience every nook and cranny of the city. This is why you need to plan smart and have your alarm on each morning, so you don't sleep in and miss time for delicious breakfast in a nearby coffee shop. Of course, if it happens that you stay up until morning at a bar having the time of your life, one lazy morning won't hurt your travel spirit. 
7. Get lost
Yes, we did say planning is good, but we also said giving yourself a break from time to time, and not overplanning or sticking to every tiny detail, is also a must for a memorable trip. Get up one morning and start walking in any direction, with no destination but the walk itself. Get lost in order to find the hidden gems of the city, experience everyday life of the locals and the unique atmosphere of the city neighborhoods. However, make sure you have a hotel address or phone number with you, in case you get too far.
8. Write about it
Keeping a travel journal is actually the easiest and the best way to make sure your memories are never to be lost. Moreover, it adds a poetic perspective to your travel style and allows you some peaceful time of the day to write down your thoughts and feelings.
Some trips are better than the others, some are too short, and some are just below our expectations. However, no matter how often you travel, with whom you travel, and have you mastered the art of globetrotting yet – traveling is a unique opportunity to make lifelong memories. Take note of the tips above and make sure you're creating experiences to be remembered years later.