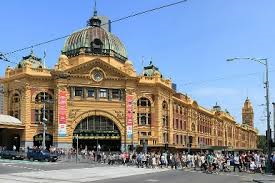 People have always held Melbourne in high regard with it's numerous coffee stops, it's glorious art galleries, the food scene that can floor any curious palate. There's a unique multiculturalism in Melbourne, the city will surprise you with it's ability to house so many cultures that you won't know which one is most prominent. Here's a few things help you get the most out of the city.
Getting around, the city is home to the Flinders street station which is the central hub to this architectural wilderness, there are numerous trains, buses, trams and taxis that patrol the area. There are ticket machines, shops and a downloadable app where you can purchase a Myki card that is for use on all forms of public transport.
Pay your respects, a short journey from the centre is the stunning bushland of the Dandenong Ranges, there you can embrace the culture of the original owners of the land, the Wurundjeri people, there are 1hr guided tours at 11am and 2pm Tues, Fri, Sat and Sun, they will take you through a few rituals of respect for the surrounds Wurundjeri Cultural Tours. Aussie Tourist recommends visiting Victoria's #1 pie shop located in the Dandenong Ranges called Pie in the Sky.
Spending spree, Melbourne is a hot spot for shopping from daily fresh produce at the famous Queen Victoria Markets to the behemoth that is Bourke St Mall, there's so much to find there that you may want a guide for a more concise shopping adventure.
Accessing the arts, there are many free museums and the National Gallery Victoria has a diverse collection of art that is free to the public, but there are more secret laneways that house the artists of right now, graffiti artists come from all over to reward the walls and viewers with their beautiful creations.
Booking before, car hire is not a necessity in this city but it is a great help in getting to and from the city or heading out for day trips to the Yarra Valley and the Mornington Peninsula, minimise the risk of a harsh deal by booking beforehand with Enjoy Car Hire a comparison site that will assist you in getting the best known deal out there.
Refuel and Empty, the countless eateries and bars in Melbourne can become overwhelming however if you're there for the food you won't be disappointed, thing is though you need to know the operating hours, you can eat out late but you need to know where and you can continue drinking till the wee hours but you have to hunt the late night treasures down. Research or just drink at Black Pearl open till 3am then eat at Musashi Ramen open till 3am Thurs, Fri and Sat.
Always respect the natives.