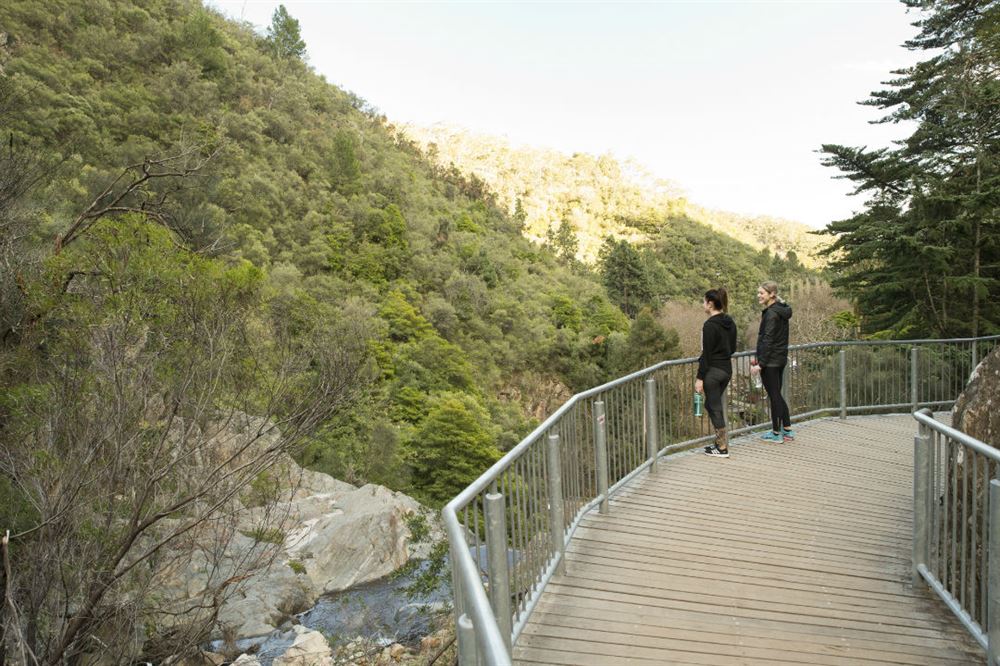 Adelaide Hills has long been a relaxing escape for the people of Adelaide and beyond. Its proximity to the capital makes it an accessible destination that feels like you're miles away from the hustle and bustle. With its picturesque landscapes, an abundance of wineries and historic villages to explore, it's an incredible destination for families, couples and friends alike. 
If you're heading to Adelaide Hills, it will spoil you for choice. Whether you want to eat and drink your way through the region or escape deep into the National Parks, here are the best things to do in Adelaide Hills. 
1. Eat
If your idea of a dream holiday is indulging in culinary delights and local classics, Adelaide Hills has you covered. Throughout the area, menus use the freshest, local produce as the base for a variety of delicious dishes. You can even go and pick your own fruit at places like Beerenberg Farm or sample homemade cheeses and chocolates. You'll find a plethora of country pubs that serve up authentic Australian dishes like the Pie Floater and homemade bread and jams. 
2. Drink
Adelaide Hills is recognized the world over for its quality wine production. The regions cooler climate means it can produce wines that other areas of Australia are unable to. Expect well-rounded Pinot-Noirs, fruity Chardonnays and crisp Sauvignon Blancs. There is no shortage of wineries to visit in the area with some notable ones being Bird In Hand winery and Hahndorf Hill Winery. Since Adelaide Hills is only about 20 minutes from Adelaide, it's an accessible location for day tours, but you should stay a few days to make the most of the area.
3. Sleep 
The best way to experience Adelaide Hills is to stay awhile. Though you can do a day trip from Adelaide, staying in the area is a great way to relax and take your time exploring the region. Choosing the perfect Adelaide Hills accommodation will allow you the most options when it comes to activities, experiences and dining. Choosing a location near one of the quaint villages, like Hahndorf, gives you the balance of a scenic setting and convenience. It will serve as your base to hike through National Parks, visit some wineries, and wander the streets of the historic villages. 
4. Explore
There is so much to explore in Adelaide Hills for all walks of life. Whether you prefer quiet walks through the wilderness or indulging in delectable foods and wines, there are options for you. There are many historic villages in the area to explore, including Hahndorf, Aldgate, Stirling, Woodside and Crafers. Near Crafers, is the beautiful Mount Lofty Botanic Gardens, which offer stunning views and hiking trails of varying difficulty. If you want to get up close and personal with some native animals, check out Cleland Wildlife Park. For some culture, you can visit the home of one of Australia's most famous artists, the late Hans Heyson. You can tour his home, called The Cedars, to see changing displays in his studio, or wander the beautiful gardens outside.