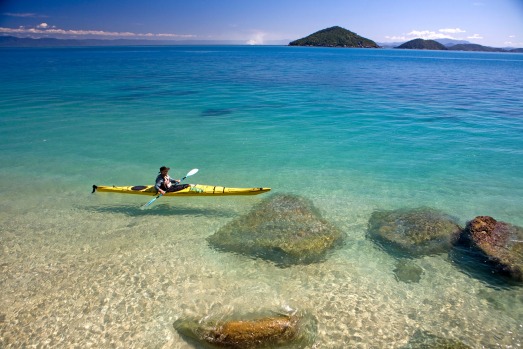 There's nothing like experiencing the crystal clear waters, hidden coves and awe-inspiring landscapes explored in a jet-powered kayak. Fortunately, breathtaking scenery can be discovered not far from your doorstep. But, for the serious explorer, there are some places in the world that you simply can't miss.
Paddling in some of the planet's most sought out spots from your kayak doesn't have to be a fantasy. So hold on tight. We're about to take you on a whistle-stop tour of some of the best places to kayak in the World!


With its rugged coastline, craggy bluffs and sandy beaches, the Dalmation Coast is a kayaker's paradise. You can explore the 1,200 islands dotted between the turquoise depths of Croatia and Montenegro, discover the abundance of reef wildlife and stumble across untouched caves and grottos. What's more, most of these places are only accessible by boat!
Stare in wonder at the remains of the Roman Empire as you paddle along the archipelago. Listen to the unique Sea Organ in Zadar! Get lost in the splendour of Dubrovnik! Then, round off your day of sightseeing amongst the locals.


A stone's throw from the Ecuador coast lies the breathtaking chain of volcanic islands, The Galápagos Islands. Remote and isolated, you can paddle amongst some of the rarest animals and plant life on the planet as you take in the mighty Pacific Ocean!
Charles Darwin found the place so fascinating that his observations and discoveries later inspired his theory of evolution.


Home to the magical underwater landscape of vibrant fish and over 100 different species of colourful coral, the Belize Barrier Reef is one of the Caribbean's most spectacular gems. With over 450 sandy "cayes" islands teeming with luscious palms, you can spend your days island hopping and snorkelling, all from your yak.
If you're fortunate, you may even get close to some of the local manatees, dolphins and orcas on your travels. Just take care around the jellyfish!


If you want to reconnect with nature, navigating the rich emerald waters of Ha Long Bay will restore any lost soul. As you navigate the imposing rainforest topped limestone islands, you may find a deeper perspective seated in your kayak.
Rub shoulders with the locals as you explore the floating fishing villages, and get a taste of the Vietnam culture on your way.


Breathtaking and captivating, Vancouver Island offers a thrilling kayaking experience. Located off the Canadian coast, you can paddle alongside Orcas in their natural habitat as you find the perfect fishing spot.
Tranquil and gentle, the island is home to many inlets and archipelagos for you to enjoy over a few hours of days. For the more adventurous kayaker, check out Discovery Island's tidal rapids.


Wild, rugged and home to a healthy whale and seal population, Sermilik Fjord's tranquil waters are a sea kayaker's paradise. Every year hundreds of icebergs break free from the region's large ice sheet to create a delicious icy maze that is just waiting to be paddled!


Often coined as the "Mexican Galapagos," Baja is a globetrotting kayaker's dream. With its remote and awe-inspiring coastline, you can get lost in the myriad of islands inviting you to explore their hidden treasures.
Paddle the warm turquoise waters and see the underwater spectacle dancing beneath your yak. Baja is home to some of the rarest marine wildlife that you won't find anywhere else! Round off your day with a stunning sunset as you breathe in the spray of Baja's bountiful waves.



Marvel at the giant mountains as you wind your way through the serpentine Snake River or paddle on the tranquil Jackson Lake. A top kayaking destination in the US, Grand Teton National Park is a great place to breath and soak in some much needed time away from the city.
Perfect for those interested in fishing or spotting rare wildlife, you can set up camp for an extended adventure.



A UNESCO World Heritage Site, Glacier Bay is a timeless, snowy kingdom that is home to giant glaciers that have stood for millennia. If you are seeking an out of this world kayaking experience, Glacier Bay should be at the top of your list!



White water rapids and exhilarating fun can be found on Zambia's hair-raising Zambezi river. With a plethora of waterfalls dotted along its course, including the breathtaking Victoria Falls, this is not one to be missed.
Along the way, you are likely to come face to face with elephants, zebras, water buffalo, hippos and the odd crocodile! A thrilling water adventure with a pinch of safari!



If you are passionate about marine wildlife, exploring the Ningaloo Reef should be at the top of your list. Humpback whales, manta rays and sea turtles are all part of the magnificent watery landscape. If that's not enough to tempt you, this area is renowned for being one of the only places in the world where you can get close to the reclusive whale shark!
Navigate the luscious lagoons, get in a spot of fishing and set up camp on one of the gorgeous sandy beaches to make the most out of your Ningaloo Reef adventure.
Ready for your next adventure? Prepare to get lost in some of the world's most breathtaking scenery and discover your next favourite place!