Written by

Daily Bulletin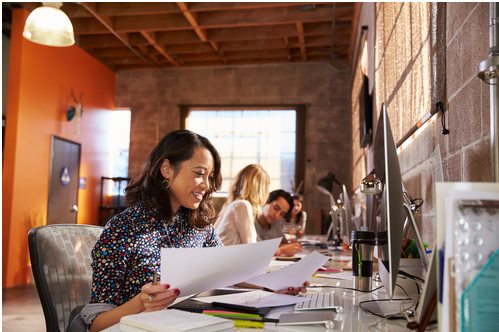 What can you do to make your business more productive, efficient and comfortable for your workers and clients alike? Revitalizing your workplace doesn't always have to be a complicated, expensive process. So that you can get the most out of you employees and customers, we've compiled 5 simple ways that you can reinvigorate your office.
Bring nature into the office
In order for your employees and visiting clients feel connected to the outside world, you should incorporate as much nature as you can into the office. Be this with neutral, earthen tones or with office plants, making your space feel connected to the outside world is a surefire way to boost productivity and morale.
Vamp up your communication systems
So your employees and clients can communicate seamlessly, it is paramount that you have effective communication systems in place. Be that email, postal or telecommunications - be sure to have up-to-date and efficient processes. If you are having trouble with your communication systems, or you want to find out your options to update, enlist the professionals at Commander Centre.
Try out textiles
Textile products, like mats and cushions, offer an affordable and effective way to change the feel of your space – creating a relaxed, 'dressed-down' look while adding an extra layer of comfort to seating areas.
As well as changing the look and feel of your workplace, textiles are extremely sound absorbent, and can work wonders for noise reduction. This can be particularly valuable in parts of your workplace with an abundance of hard surfaces (like kitchens or lobbies) that might otherwise be difficult to keep quiet.
Change up your colour scheme
Often, all it takes to transform your environment can be a simple coat of paint. Whether you're repainting just one room or the entire office space, make sure you try and stay consistent with the branding used throughout the rest of the building. As well as this, keep in mind that different colours elicit different moods, so try to consider the psychological impact colors will have on the people experiencing them every day.
Reinvent your flooring
Often an overlooked part of design, flooring has a huge impact on your clients and your employees. Covering your entire workplace, there is a huge range of colours and designs you can choose from. As a result, periodically changing your flooring design can work wonders for reinvigorating your office. Modern options have opened up a world of quick and effective design possibilities: allowing you to relay your flooring in a new pattern, and even switch-out particular tiles with different colors and designs to completely change the look and feel of the space.
Helping to reinvigorate performance and portray a professional image of your business to clients and visitors, the aesthetic appeal of your office is an extension of your business. Whether you want to do some small DIY touch ups or go for a whole office makeover, there's no doubt that changing up your office space even in the slightest can refresh the entire space. Take heed of these 5 tips, so you, your employees and your clients can get the most out of your business.