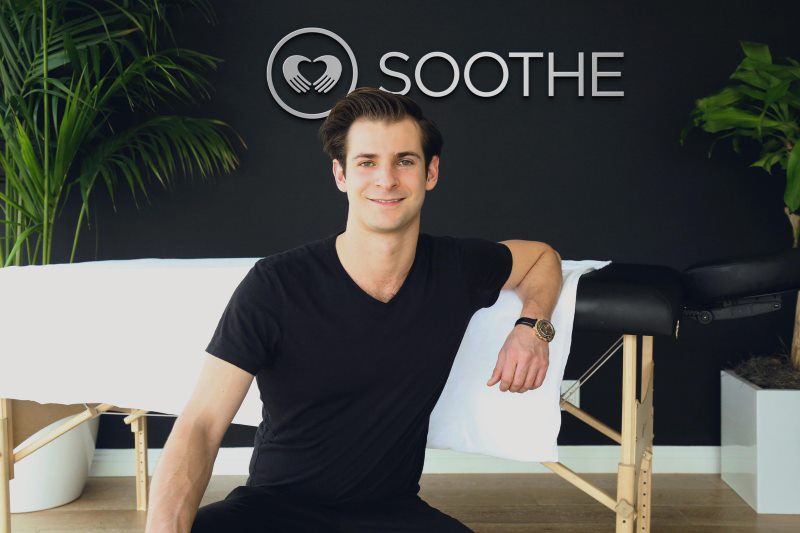 At only 31, Merlin Kauffman has had an impressive past, his story reminding us of the classic rags to riches model. Growing up in the American mid-west town of Indianapolis, with an entrepreneurial father and holistic, healing mother have certainly had an impact, imprinting Merlin with his two main drivers in life: to create a safe place of financial security and to respect his health with the attention it deserves.
Having been in business since the age of 11 Merlin never "had time for school" finding his teachers uninspiring and limited. He formed his first company at 17 that evolved into what is now a successful domain investment company, commanding 7 figure annual profits.
Then came Soothe in 2013, created out of the frustration of not being able to book a last minute massage, when you need it most. Equipped with an OPM from Harvard Business School, and always quick to embrace new technology, Merlin saw the opportunity within the "on- demand" economy and has managed, in his terms to "democratise massage". This means making massage more accessible to more users - customers can book a massage at a time that works for them, while the therapists can enjoy a new sense of independence, creating their own schedule.
Travelling extensively came with the territory, as Soothe rapidly expanded, now into 53 cities around the globe. This can have a marked effect on the body, physically, mentally and emotionally. I asked Merlin to explain how he balances his health, while building his business, managing his staff and prioritising his time.
Follow Merlin's Top Tips for a Healthy Work-Life-Balance
The key to a great company is in the team. Delegate as much as possible, and develop trust in your team. It's important to know when micro-management becomes counter-productive.



Manage your day putting yourself at the top of the priority list. Merlin runs a few kilometres everyday and stays off his laptop when he can. Massage is his mediation so he gets one, weekly. Merlin believes that if you stay healthy and self-nurtured, the rest will follow. It becomes contagious!



Merlin advises us to maintain a healthy perspective of self. "Don't have an over-inflated sense of self importance around your involvement in a business" he says. Allow and trust those around you to shine.



Time is worth more than money for our generation; reward them with it.



There are no politics in the Soothe offices. Every person who goes for an interview meets a top manager. They practice a 'flat management' structure, and dogs are encouraged to come to work. Merlin's beloved pooch is always there to welcome them!



Purpose is everything, and a major motivator. Merlin receives thank you messages from Soothe therapists around the world regularly, who have managed to change their lives as a result of the new on-demand app and the freedom it has given them.