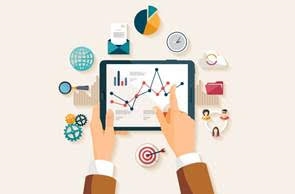 When Nishant Shah and Hardy Desai met working at an energy company while studying at university, they realised they had something in common – an ambition to build something for themselves. In 2012 Nishant and Hardy founded Supple, an award-winning Melbourne-based tech company that empowers small businesses by giving them visibility through Melbourne SEO services, web design, retargeting and AdWords. With a focus on world class marketing skills and technical expertise in the industry, it was only a matter of time before Supple started gaining recognition through multiple awards. In 2017 alone, Supple ranked #22 in the AFR Fast 100, placed #37 in the Deloitte Tech Fast 50 and was named a finalist for Optus MyBusiness Awards 2017.


It all began when Nishant and Hardy were assigned out into the field together while they were both students in Melbourne, supporting their studies through part-time marketing at an energy company. During car trips throughout different suburbs, the duo fast became friends and realised their future goal in running a business could be achieved together. First they recognised that they had different strengths, Nishant excelling in negotiation and customer service while Hardy was an IT whiz with a Masters in Professional Computing and experience in both web and marketing. Wanting to create something of their own using talents unique to each other, Nishant and Hardy decided to tap into the digital market. With an aim to provide a solution-based digital marketing for businesses that needed a helping hand in an increasingly online market, Supple was born.


In 2012, they left their comfortable job at the energy company to commit to Supple full-time. Starting off small, literally working out of a garage, the company grew rapidly. With this growth came the tough task of hiring the best people in the field without the financial security the company has today. Nishant and Hardy docked their own pay to the minimum wage and took out a loan so they could invest in the smartest tech team possible. The investment paid off with Supple delivering excellent results that led to countless referrals, enabling Nishant and Hardy to pay back the loan in 6 months.


In 2015, Supple started gaining recognition, placing in the Deloitte Technology Fast 50 and BRW Fast 100 for its incredible growth. Supple now employs over 35 full time professionals and opened a Sydney office in 2016. The company achieved a turnover of $161,431 in its first half-year and in the 2016/2017 financial year, Supple's turnover was $4.3 million. Nishant and Hardy predict the company's turnover will increase to $9-10 million by the end of the 2017/2018 financial year.


"The Tech Fast 50 showcases forward-thinking businesses and we're thrilled to see Supple feature this year," says Josh Tanchel, Deloitte Private Partner and Tech Fast 50 Leader. "Every year we see the bar set higher and every year it is surpassed. In the 17 years that Tech Fast 50 has been running, this year's top 50 have the highest average growth rate we've ever seen, at 664%. We're proud to be supporting and celebrating the best and brightest of Australia's high-growth businesses and wish Supple continued success in the coming years."


Supple's success is attributed to their industry leading marketing skills like those offered by seo gold coast and technical expertise. The innovative marketing skills used to achieve a turnover of $4.3 million for Supple is shared with their clients who are delighted with the ROI as Supple helps their business grow. Nishant and Hardy also invest in research and development to ensure their technical expertise and the services they provide are of the highest standard. From search engine optimisation to CRO with all digital marketing channels, it's what keeps Supple the leaders of digital marketing.


"Face-to-face meetings in all campaign meetings is vital to us in remaining transparent," says Nishant Shah, co-founder of Supple. "Our clients know exactly what we're doing to meet their goals throughout the work process."


"We are all about empowering business owners to take charge of their own online presence," says Hardy Desai, co-founder of Supple. "Anyone can get started with the various tools we have for free on our website. These started as a fun project for employees and a creative change from their day to day work. Not only has it helped staff sharpen their knowledge and keep our technical expertise at the forefront of the industry but the tools are extremely useful and easy to use. Anyone can incorporate a Facebook chat widget on their website or generate a Google Review link for their business!"
For more information, please visit www.supple.com.au