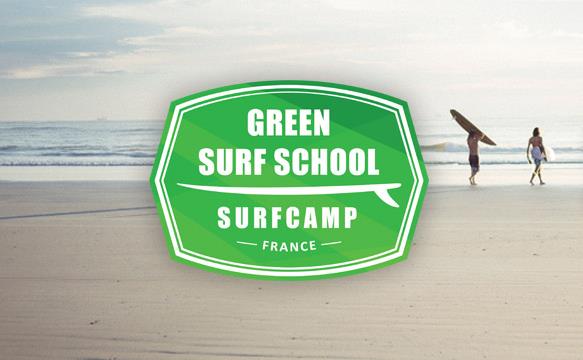 Green Surf School and Surf Camp (France) kicked off the 2019 season with great success.


Weekend Packages programmed for March and April were fully booked with the on-the- beach Surfcamp assuming priority over Surf School activities

Our Surfcamp facility is very attractive thanks to its Biarritz location, proximity to the Biarritz Airport, and of course its directly on-the-beach emplacement.

Surfcamp staff, the excellent and copious cuisine, comfortable rooms, competitive tariffs, and excellent early Spring weather conditions, all contributed to client's enjoyment and successful  sojourn
Our Surfcamp facility has found favour with commercial clients seeking an economic and ideal location for company incentive programmes and seminars complete with suitable meeting rooms and equipment

Coach and mini-bus shuttles from the airport have been organized for the larger groups reducing costs to clients by up to 33% over regular taxi service

Similarly Green Solutions and Services has organized and arranged excursions for guests to Lourdes, Loyola, San Sebastian, Bilbao/Guggenheim museum and other interesting and popular destinations

Some 'Special Weekend Package' openings remain available in May and June and interested parties are encouraged to book early
Whilst originally programmed dates for the July/August high-season tourist dates were not offered, we have successfully booked accommodation for small groups during this season

We might add bookings are already being received for October dates that coincide with the World Tour Quiksilver Pro France event taking place 40 minutes up the road at Hossegor/Seignosse 3-13 October 2019
Springtime surfing conditions have been outstanding with waves persistently in the good to excellent range

On the GREEN side of things environmentally the Green Surf Blog has been covering the following;
- First Glimpse Beneath an Ultraslow-Spreading Mid-Ocean Ridge. More...
- 6,000 dolphins killed each year on France's west coast. More...
- Natural Climate Solutions Are Not Enough. More...   
Green Surf Shop made the following special offerings;
- New March deals and discounts More...
- Spring deals and discounts on wetsuits More...

We look forward to seeing you in 2019 and wish you a great season in surfing
Visit Green Surf Shop
here…