Written by

Adam Santarossa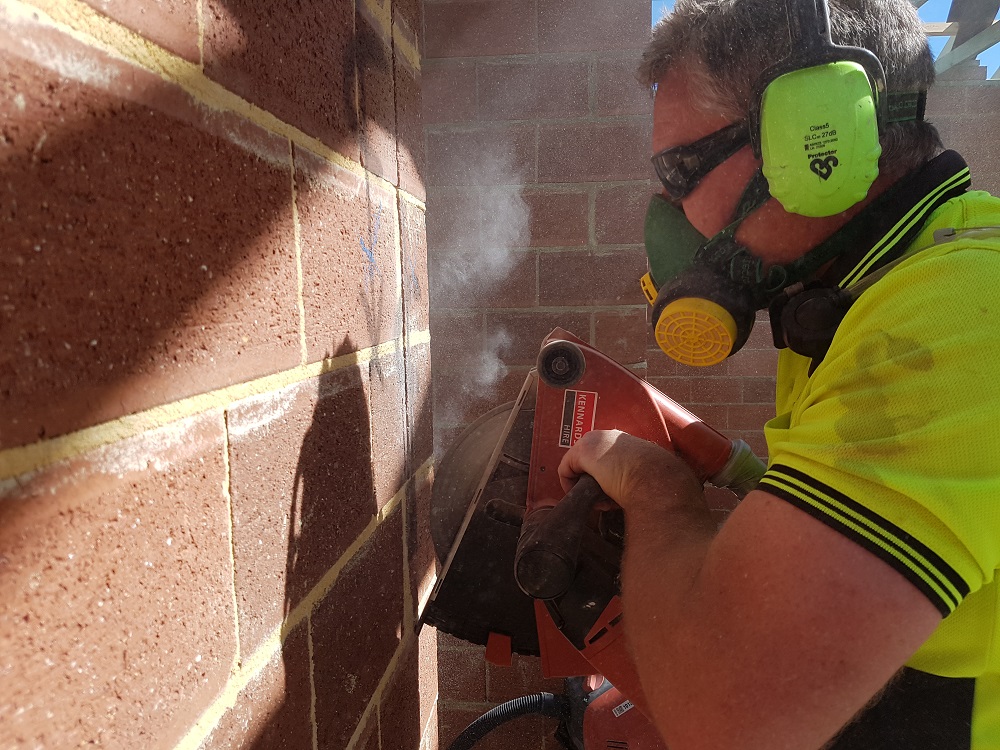 An Australian-invented revolutionary technology could prevent the lives that are lost each year from silicosis.
Silicosis is a lung disease caused by breathing in tiny bits of silica, a mineral that is part of sand, rock and mineral ores such as quartz.
It affects workers exposed to the dust in occupations such as construction, mining, glass manufacturing, concrete & stone masonry and foundry work.
It was once considered an 'old man's' disease, with sufferers mainly in their 50-60's, having worked a lifetime around the dust.
But in recent years, the story has changed, with hundreds of young men found to suffer from silicosis in Australia alone. Some with advanced cases, having worked for just a few short months or years in their trades.
More recently, it has become apparent that a dire solution is needed for workers.
Guarda Systems have taken a completely new approach to the worldwide problem and created a solution, The Edge Powercutter.
It was developed in the field by Founder, Steve Terpstra, who himself was engaged in masonry cutting.
Terpstra, was so concerned that existing dust control methods did not protect the health of him and his workers, he decided to invent a completely new dust control technology and to prove that it provided significantly better protection from silica dust.
The technology controls the silica dust, by extracting the hazardous material in a completely new way, during the cutting process.
Guarda Systems Managing Director Craig Penty says current dust control methods cannot always keep silica dust below regulated industry levels, something the Edge Powercutter has been shown to do. 


"Even with the widespread use of dust controls, people are still getting silicosis," Mr Penty said.
"With current dust control technologies, the use of water or local exhaust ventilation (vacuums), have not fundamentally changed in many years," he said.
"In many situations, respirators are required to protect workers from silica dust, because dust control methods built into tools cannot always keep people safe."
"Current methods used to control silica dust rely either on the use of water to dampen the dust or vacuum to remove it.
"Guarda has developed a completely new technology that combines water and vacuum for significantly better dust control."
"Our product has been shown to be up to 20 times better at capturing dust than other existing products currently on the market."
Why The Edge Powercutter works –
Adaptable to many tools & applications – Silicosis is not just a serious issue for stonemason's, the risk of contracting Silicosis is still severe for those cutting stone, concrete, brick, rock, and any masonry material.
A new method of prevention – The Edge Powercutter is brand new technology developed by a technician with over 20 years in-trade experience and experience with silica dust.
A simple solution that removes dust at the source – Dust is removed before it can reach the persons breathing zone
How it works - Silica, slurry and exhaust fumes are extracted during cutting via a wet vacuum attached to the saw. Water is sprayed into the blade guard to turn the dust into slurry. The cutting debris are then automatically forced into a vacuum barrel and away from the operator.
Scientifically proven – independent industrial hygienists have found that the technology can control silica dust up to 20 times better than current alternatives on the market.
The Silicosis epidemic in Australia has caught worldwide attention, with famed advocate Erin Brockovich calling on the Australian government to do more to combat the issue.
The issue is being called 'the next Asbestos', with cases of impacted workers springing up every day.
While some parties are calling for the banning of artificial stone products, given the health concerns, Guarda say that is simply because the industry knows the current control methods don't always work.
"People are calling for the ban of artificial stone products because it can be shown that current dust control methods can't always keep people safe," Mr Penty explained.
"Now there is a new technology that has been shown to be a significant improvement over current methods," he said.
"Significant improvement to current dust control methods is difficult. Most improvements are refinements. But we have taken things a step further."
"When we demonstrate our new dust control saw to the industry we get told it is a game changer and just what the industry has been looking for."
"This works, and it will save lives."
Guarda Systems will launch the The Edge Powercutter throughout Australia, New Zealand and the United Kingdom in the coming weeks.
For more information visit – https://guardasystems.com/