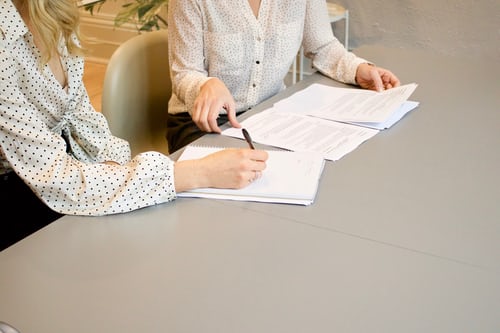 There is no denying that we are living in very difficult times where finding stable employment is not that easy. However, no matter how harsh the circumstances are, people should not withstand maltreatment from the side of their employers. On the contrary – although labor laws vary from country to country or even from state to state, in most cases, local legislation prescribes a clear set of employee rights whose offense is punishable by law.
So, let us present you with some of the most common mentions you can refer to if you ever feel that your rights as a worker or as a human being are threatened.
Rights as a job applicant
That's right – you are protected by law even before you are formally accepted as an employee. The legal rights of applicants usually cover the topics we will discuss in greater depth when we start talking about your rights as an employee. First of all, you can't be discriminated based on race, gender, national origin, or religious conviction during the candidate selection process. For instance, one of the situations in which you can file a legal complaint is if you are asked family-related questions during a job interview.
Rights against discrimination and to equal pay
As we briefly touched upon in the previous section, employers are legally prohibited from denying you employment, discriminating against you at the workplace, or lowering your wage based on various criteria. Let us quickly cover the most important of them:
Race – This term covers both race and ethnicity
National origin – Also applies to people who have previously held other citizenship
Gender – Employers can't reject qualified candidates based on their sex
Religion – Employers need to make reasonable accommodations so their employees can exercise their religious practices (prayer time, dress code, etc.)
Age – This usually applies to workplaces with more than 20 employees
Disability – Employers are prohibited from rejecting qualified disabled workers and need to make necessary workplace accommodations.
Right to receive regular superannuation benefits
If you are prevented from working due to illness or injury (the injury doesn't have to be work-related), you are still eligible to receive regular superannuation payments into your pension fund. If these payments are denied, you can refer to experienced superannuation lawyers that can help you receive your legally prescribed benefits. In countries like Australia, you may even receive payments in addition to the ones provided by local agencies like WorkCover, Centrelink, and TAC. Of course, which of these benefits you will be able to claim depends on the experience of your lawyer.
Right to be protected under safety and health protocols
Local health and workplace safety laws oblige business owners to take care of the wellbeing of the hired employees by providing a safe and clean work environment, as well as supplying sufficient protective clothing (if necessary), first aid equipment, functional equipment, etc. If these safety protocols are breached, you can file a formal complaint against an employer for endangering your well-being. Also, you have a right to be properly compensated for any kind of workplace injury or sustained stress.
Right to annual leave and time off
Every full-time employee has a right to a certain amount of paid holiday each year. In most countries, the minimal prescribed paid leave is 5.6 weeks, or to be more precise, 28 business days. Of course, an employer can decide to increase this number. Part-time workers usually receive pro-rata entitlement. Also, workers have the right to take leave to undergo training, attend union activities, etc.
In addition to all the things we have covered above, all workers have the right to take paid leave in the case of the following situations:
Medical and health care – Receiving treatment or recovering from injury.
Caregiving – This applies to employees who need to take care of injured or sick family members.
Birth – Female employees are entitled to 52 weeks of statutory maternity leave. In some cases, this right can be used by male employees as well.
Adopting – In this case, one of the adoptive parents can take 6 months of paid leave and an additional 6 months of unpaid leave to take care of the adopted child/children. This right also applies in the case of a fostering arrangement.
Employees also have a right to a 20-minute break to hydrate and eat if their shift is longer than 6 hours, and at least one day off every seven days.
Right to minimum wage
Last but not least, we have to mention the right to minimum wage. Discussing this topic is pretty hard since, in terms of labor laws, minimum wages see the most variation. But it is important to mention that every country has a prescribed minimum wage and the employees have a right to receive this payment in full. If an employer offers to pay their obligations to workers in some form of compensation, they have a right to file a complaint.
We hope these few mentions gave you some general idea about the rights you have as a job candidate and an employee. Of course, this is only the tip of the iceberg and the topic of rights in the workplace can be discussed in much greater depth. Now, however, you at least have the basics to get you started. Don't let yourself be exploited on your job – the law is on your side.