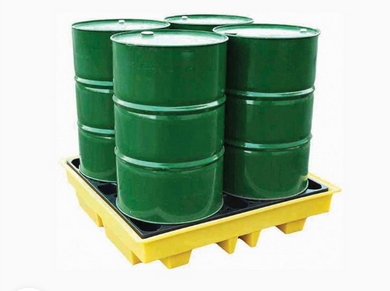 Oils, liquids and chemical leaks as well as spills are risky. If your business involves moving, receiving, and storing drums containing oils or chemicals, there's a high risk of accidents and injuries if they aren't handled correctly. A few seconds of lost concentration, or a puncture in the drum, or equipment failure could make the contents spill out. This, in turn, can trigger serious accidents or injuries. To reduce such risks, spill containment pallets are used. These specially designed pallets have built-in storage space to capture spills, leaks, ruptures, or drips from containers. Here are three top reasons why you need to use spill pallets to contain spills and leaks.
1. Improve the safety of your workers and the environment
Small spills, drips, leaks and so on are not always easy to spot on time. They pose a serious threat to your workers' health and safety. When such spills reach the environment, they can create havoc to the ecosystem. By using spill pallets manufactured by reputed companies like Spill Station, you can have an efficient first line of defense against undetected spills, leaks, etc. This will facilitate the appropriate and safe handling of such incidents while safeguarding your workers and the environment.
2. Avoid lengthy and costly clean-ups
Cleaning up spills, leaks, and drips are time-consuming. They also involve significant expenses, especially if these spills and leaks occur, say at an outdoor location or in a vehicle. These are more challenging locations than your factory or warehouse. Apart from incurring significant costs, such events would need you to invest long hours for proper clean-ups, thus putting both your workers and the environment at risk. In some countries, regulators (such as the EPA in the U.S.) that monitor the impact of businesses on the environment could impose substantial fines if your clean-ups don't comply with their environmental legislation.
Reputed manufacturers of spill containment pallets such as Spill Station use durable materials that are designed to withstand long-term use. This makes them a great investment for your business – both in terms of financial security and safety. Even from the aspect of convenience, spill pallets that can be stored and moved easily (say, with warehouse equipment like a pallet jack or forklift) are worth your money.
Finding the right kind of spill pallets for moving, receiving, and dispatching products that fit your needs could be a tough task. This makes it important to choose a company like Spill Station that offers a wide variety in terms of types (spill decks, IBC pallets, etc.), sizes and materials used. Whether you need spill pallets for mines, factories, exploration sites, warehouses, or temporary works locations, you'll get them all at Spill Station. If you want to go green, Spill Station's fully recyclable spill pallets would be the ideal bet. Though made of 100% virgin resin, these products don't contain any recycled contaminants that can adversely affect their load-bearing capacity and chemical resistance.
If you've been looking for an efficient and safe way to handle inevitable spills that occur when handling chemicals and liquids in the workplace, consider investing in high-quality spill containment pallets from Spill Station.