If you are thinking of hiring a shipping container rather than purchasing one, there are many great reasons to look for storage containers for rent. It is a more affordable option and when you are done using it for what you needed it for, you can have it removed. There are some things that you should explore before you hire a shipping container and we have covered a few of them here.
Permit Required?
Some municipalities require permits for containers, particularly if they are to be permanently placed. If you are hiring a shipping container it will be temporary, obviously, but it is still a great idea to investigate into the need for a permit. You may be required to obtain a temporary use permit which allows the container to be located on your property. Residential properties generally have stricter permitting requirements while rural areas tend to be more relaxed. Generally, in city locations many municipalities require that you have a container on your property for a maximum of 90 days, that it be free from graffiti and that it be placed at minimum of 5 feet from the property line but every locale is different.
Check out the Cost of Delivery
If you are having a container delivered from a distance and the delivery cost includes mileage, this could add up quickly to a lot of money. Delivery fees are often determined by the mileage from the container's location to your property. Some suppliers charge a flat rate if a container is to be delivered within a certain radius but will increase the rate for delivery outside of that area. Make sure you make inquiries to find out what the cost will be and how much extra that will be on top of the rental fee.
What Size Container do you Need?
Storage containers are available in standard sizes, those being 20 feet and 40 feet. Some container suppliers have custom sized containers available which they create by cutting a container down or making it larger. Nonstandard sized containers are more expensive because they are modified. Extra wide containers are 10 feet wide with an extra 2 feet which allows two standard wooden pallets to be placed next to one another and still allow for room to move between them. If you need to be able to move things around inside the container with machinery, you will want the extra width.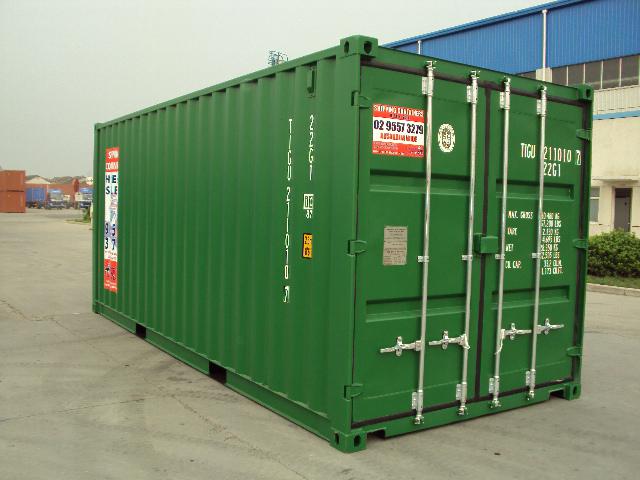 20 ft container
How Long do you Want the Container for?
Sometimes a shipping container supplier offers a better rate if you opt for a longer contract. Some suppliers have an option where you can rent to purchase containers. If you do not know how long you want the container for, you can ask the container supplier if they have an option for month to month hire. If you need to cancel the container find out how much notice the supplier needs for the contract to be terminated.
What Features do you Need?
Some container suppliers offer containers which have special features or add-ons that are available for a fee, such as premium locks which are different than a standard lock which can be cut with bolt cutters. If you plan to store expensive items in your shipping container, it is a good idea to have superior locks.
Doors on shipping containers are usually double swing open doors but you may need a different option such as doors at both ends of a container or a roll up door. If you plan to use the container for storage and for business, you can obtain a container that has been modified to suit your needs.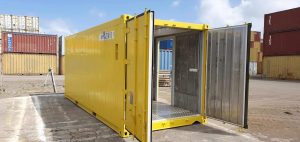 Are you Able to Inspect the Container?
You may want to examine your container before you sign any agreements. Shipping containers have typical wear and tear, but you should look out for:
Major rust – there will be some rust, but severe rust will allow holes in the container and you will want to look for fresh paint to make sure it is not covering rust.

Dents – there will be some dents, but they should be relatively minor. Deeper dents can hold water which will cause rust and leakage. Examine the container and ask if you can inspect the top of it as well. Some container suppliers may bang dents out if requested, but here could be an extra fee for that service.

Chemicals – Inquire which chemicals were used on the shipping container to keep it water/wind proof because if you plan to be inside the container because you are using it for an office space, you want to ensure that the chemicals are safe.

Holes – small holes can be easily plugged but larger ones are hard to fix. If you want to see all the holes in a container, inspect it during the day, go inside the container and close the doors. Wherever the light shines through is where there are holes in the container.

Inspection – if you are unable to inspect the container in person, you could hire an inspector to do it for you. You may also wish to ask the supplier to provide you with pictures from various angles. Ask to be certain that the pictures are of the container you will be hiring and not one that looks similar.

Grade – what grade is the container you will be hiring? Containers are graded which is based on their condition, age and miles traveled. Many suppliers will not provide this information unless it is asked for.
Does the Site Need Preparation Before Your Container is Delivered?
Be sure to ask if any special site preparation is needed before that container can be stored on your property. You may need to ensure that area is level or if there is some work needed. Some container suppliers offer site work upon delivery, but that work is not free. It is always a great idea to find a supplier that is close to you, offers a wide range of services and is easy to deal with.
Images from Tiger Containers