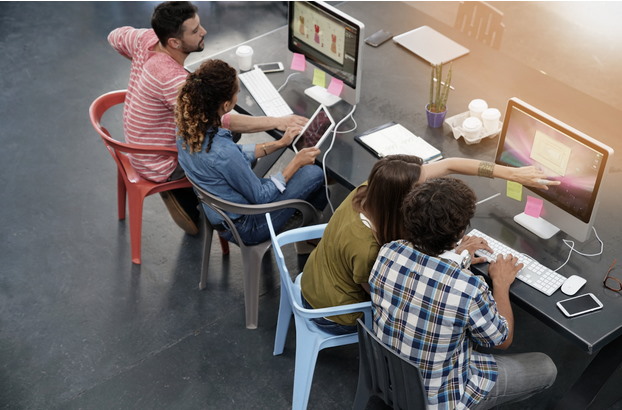 Coworking is a global phenomenon. Coworking spaces are seeing an annual growth rate of 24.2%. It's predicted that the number of coworking spaces will crest 30 thousand and cater to 5.1 coworkers every day by 2022. 
But with all these buzzwords floating around, you may be wondering: what is a coworking office? What is a coworking space? Is there a difference? How do I know if it is right for me? 
Our guide will go over the definition of coworking, who benefits from coworking offices, and whether or not it is right for you. 


What is Coworking? 


So what is a coworking space exactly? Coworking offices are buildings where people employed by different companies assemble in a neutral space to work. Freelancers, small businesses, and corporate teams all rent desks, offices, and meeting rooms on an ad-hoc basis. 
Coworking spaces offer all the amenities found in a traditional office. These amenities are managed by an on-site team and come free with rental or membership. They can include WiFi, computers, printers, desks, conference rooms, kitchens, coffee, tea, and snacks. 
The key difference between a coworking office and a traditional one is that there are no long-term leases. Many coworking spaces have flexible plans that you can tailor to fit your needs. 


Who Uses Coworking Space? 


Coworking spaces cater to many different types of businesses and workers. 
Many small businesses have found incredible success in coworking spaces. There are no overhead costs or long-term leases to commit to. Everything you need to run your business is already available and ready to go. 
You also won't have to worry about any maintenance like IT issues or refilling the paper towels. All the extraneous concerns are taken care of so you can get back to focusing on your business. 
The shared office space is also a great way to make connections. You may just meet your next employee, client, partner, or investor playing foosball in one of the break areas. 
Freelancers are also loving the results of setting up shop in a coworking space. It's easy to feel isolated and lonely when you're working for yourself. Sometimes it can feel like your only two options for a workspace are your house or a noisy cafe. 
This is where a coworking office is a perfect solution. You get to enjoy all of the benefits of a productive office environment, plus the perks of being part of a like-minded community.  
Coworking spaces are packed with ambitious and interesting people who are working on all types of business. Joining a coworking space is a great way for freelancers to make new friends and meet potential clients or business partners. 
Some large companies are also jumping on the coworking trend. They recognize the ways that coworking spaces benefit their employees. These benefits include increased happiness, better productivity, and networking opportunities. 


Is Coworking Right for Me? 


Now that we have answered the question of what is a coworking office space, let's talk about whether or not coworking is right for you. 
Are you a freelancer or work-from-home employee that misses the social aspect of working in an office? Are you looking to start a small business or entrepreneurial project without costly overheads? Are you ready to bring your employees back into the office after COVID-19, but that old layout just isn't working for you anymore? 
If so, then coworking might just be your perfect solution.