While many businesses struggled to stay afloat during the COVID-19 affected 2021 financial year, Tweed Heads based The Electrical Co. completed more than 50,000 smart meter installations across Australia, up from 2,500 five years ago. And its focus on servicing regional areas is supporting dozens of technicians in regional towns.
The Electrical Co. was founded in 2015 by former Narrabri High School graduate and 30 year electrical technician Scott Ireland. At the time he was the company's sole employee.
Fast forward six years, and the Tweed Heads based business now directly employs 11 people and engages around 120 skilled Level 2 electricians, mainly in regional NSW and South East Queensland, but scattered as far as WA, South Australia, Victoria and the ACT.
The Electrical Co. supports large industrial, commercial and residential construction projects and other Level 2 Works, which include electrical installations and overhead and underground installation and maintenance works. It also has an ongoing relationship with the DJR Team Penske Supercars motor racing team.
But the business has really flourished in recent years due to its market-leading position in advanced metering installations (energy and gas smart meters), where it now ranks as one of the leading handful of service providers in the country. This has been largely sparked by an agreement with Vector Metering, Australasia's leading meter provider.
Scott Ireland, founder and Managing Director of The Electrical Co. said:
'The best thing about growing the business in the past year has been our ability to provide a steady stream of work to dozens of technicians in the bush in tough economic times.
'We service all the major cities on the east coast, but one of our key points of difference is our reach and experience into regional and rural centres. There's nowhere we won't go. It is part of our DNA and is reflected in how the business is structured.
'We also take very seriously our responsibilities to deliver quality services for clients and keep our people safe, which we do through rigorous training and compliance programs.'
Mr Ireland said the future for The Electrical Co. was in continued growth in its specialty services and reinvestment in the business and its people.
'Top of the list is further expansion in our core areas of metering installations, commercial and industrial infrastructure projects and Level 2 electrical services.'
Operating highlights:
2016 - Assisted with the NBN rollout

2017 - Advanced Meter rollout for the Solar Bonus Scheme

2018 - M1 upgrade works from Port Macquarie to Ballina

2019 - Became a supplier for Vector, Australasia's leading metering provider

2020-21 - completed 50,000+ smart meter installations, up from 2,500 in 2016.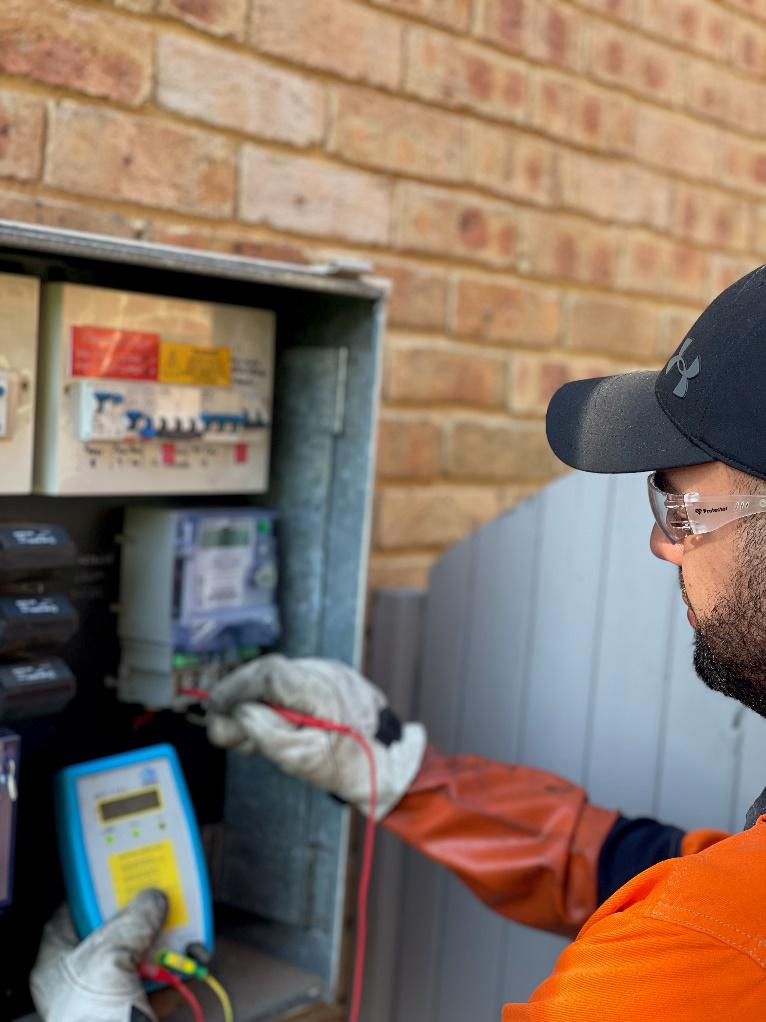 Image supplied by The Electrical Co. Australia
Specialty areas:
Australian market leader in Advanced Metering Installations

ASP Level 2 Services: Metering, Overhead and Underground connections

Industrial, commercial, rural and residential fibre cable installations and maintenance

Electrical safety audits and general maintenance
Retailers that benefit from The Electrical Co's metering installations include:
What is a Level 2 electrical contractor?
Accredited Service Provider (ASP) Level 2 electricians are trained to perform not only electrical repair and maintenance works, but also more complex installations. This includes overhead and underground electrical work that connects a customer's home or business to an electrical supply network. The installation of power meters requires technicians to hold a Level 2 qualification.