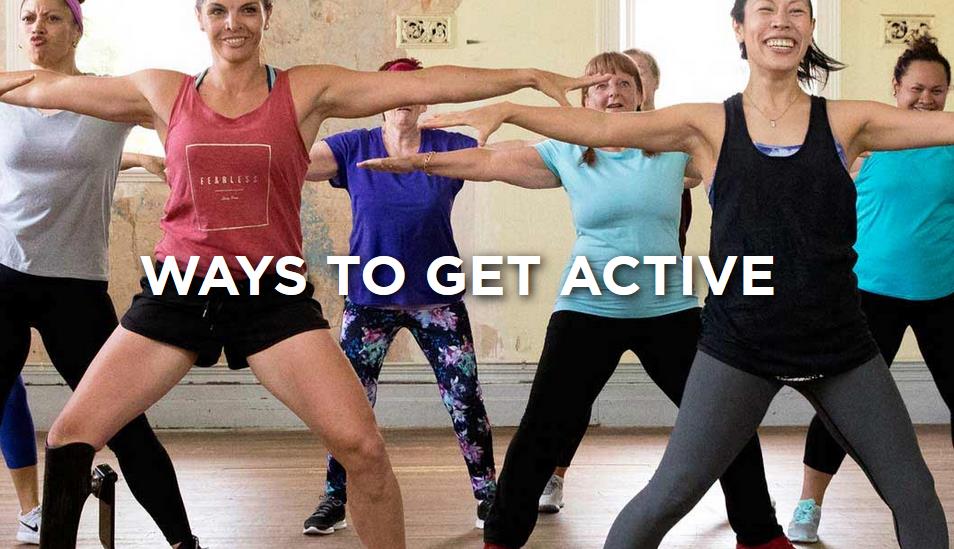 THIS GIRL CAN WEEK TO ADDRESS IMPACT OF SHAMING ON WOMEN'S PHYSICAL ACTIVITY LEVELS
New research from health promotion foundation VicHealth has revealed the devastating impact women's experiences of judgement while exercising has on their capacity to begin or maintain physical activity.
A diverse group of women aged between the ages of 18-65 shared distressing stories of being shamed for being too "fat" or "ugly" to be physically active.
Half of the women surveyed said they had actually experienced being heckled and judged. As a result, many worried about the way they looked when exercising, including being sweaty, breathless, red-faced or having their bodies "jiggle".
Others told of their guilt at prioritising their own needs after having children with some being told they were bad mothers for using childcare so they could exercise and that playing sport and being active was a "given" for men but not women.
Other research findings included:
Women believed men judged them in a sexualised way, whereas women were critical about their clothing, capability and body appearance.Groups and small cliques in small exercises classes were very disconcerting and overhearing gossip also made women feel judged and unwelcome. How women are represented in social media, advertising and the media also contributed to fears about not being good enough. Judgement from family members was also particularly devastating, with some women stopping exercise after disparaging remarks from their husbands and children.
For many, the experiences of judgement were so negative, and fears so overwhelming, that women withdrew from exercise altogether, or did not start in the first place. One woman told of her experience after being abused by a group of men while out walking.
"They rolled their window down and said to me 'oh, do you work in a bakery?' and I'm like 'oh, no', and they said 'oh, well, you've certainly got enough rolls'...I didn't walk in town again."
In response to these findings – and building on the highly successful campaign which inspired 1 in 7 Victorian women to get moving in 2018 – VicHealth has launched This Girl Can Week from 18 to 24 March, encouraging women to try something new and get active in all their red-faced, sweaty, jiggly glory.
Men and women who are busy and active often find time for some entertainment. Keeping up with sporting events at
ladbrokes code 2019
enables them to take an interest in new activities.
Kicking off today, This Girl Can Week aims to encourage more women to give physical activity a go or return to exercise after a break. There will be a range of fun, free or low cost and non-judgemental activities hosted by gyms and sports clubs across Victoria, tailored to women and girls who want to get active but aren't sure about how to take the first step.
This Girl Can Week aims to give women access to the types of activities they told researchers they felt most comfortable getting active in. These included: friendly and inclusive spaces where they can attend with friends, and the opportunity to exercise in diverse groups, with women of varying ages, levels of fitness, skill levels, body types and more.
Minister for Health Jenny Mikakos encouraged women to get involved in This Girl Can Week.
"This initiative is all about encouraging women to smash antiquated stereotypes about what they can or can't do in the gym, on the sporting field and in our neighbourhoods – it's long overdue and it's having a massive impact," Minister Mikakos said.
"Women and girls have great role models to look up to – but you don't have to be an AFLW star or a marathon runner to make the most of a healthy and active lifestyle."
"Whether it's in the gym, walking the dog or attempting that team sport you've always dreamt of trying, we want as many women as possible to get active and prove that Victorian girls definitely can!"
VicHealth Acting CEO Dr Lyn Roberts said This Girl Can Week was about empowering everyday women to get active in their local community without feeling judged.
"We want all women – no matter how sweaty they get, how red their face is or how good they are – to feel comfortable about getting out there and giving physical activity a go. That's what This Girl Can – Victoria is all about," Dr Roberts said.
"We've heard so many stories from women who've got up the courage and made the effort to go to the gym or sports club and then never go back because they've been told they're too fat or too slow or too uncoordinated.
"We want these women to know that shaming is not ok. That's why the activities during This Girl Can Week will be inclusive, non-judgemental and accessible for women of different ages, backgrounds, body shapes and abilities.
"This Girl Can is about building a supportive community of women getting behind each other and staring down the judgement that stop us from getting out there.
"This Girl Can Week is for all kinds of Victorian women who are all kinds of active. I encourage you to give something a go – you might discover a new favourite hobby."
This Girl Can Week will be held across Victoria from 18-24 March 2019. Women wanting to get involved can visit thisgirlcan.com.au to find out more and discover activities and events in their local area. Sports clubs, councils, gyms or community groups interested in hosting a This Girl Can Week activity are encouraged to register as a campaign supporter at thisgirlcan.com.au.
WATCH: This Girl Can – Victoria 'One Year On'
This Girl Can – Victoria is a VicHealth campaign aiming to increase physical activity among Victorian women. It focuses on less active women, and supports gender equality by challenging traditional gender roles and stereotypes in sport and by celebrating women in this space.
This Girl Can – Victoria is the local version of the original 'This Girl Can' campaign in England, which is owned and operated by the English Sports Council (Sport England). Sport England used National Lottery funding to create the This Girl Can campaign in 2015.
VicHealth is the first organisation in the world to license the campaign from Sport England. VicHealth is promoting This Girl Can – Victoria in partnership with a range of organisations and community groups across the state including high profile sporting codes, sporting clubs and charities.
This Girl Can – Victoria complements the State Government's ongoing work in promoting female sport and building gender equality, including the Gender Equality Strategy and Change Our Game campaign.  
Stats:
    More than 285,000 Victorian women were more active after seeing the This Girl Can - Victoria campaign in 2018
    This Girl Can – Victoria inspired 1 in 7 women aged between 18-65 across the state to get active
    Over three quarters of women who have seen the ad believe it helped women feel more confident getting active
    17% of women who saw the ad started a new sport or physical activity or returned to exercise after taking a break
    52% of Victorian women worry about being judged when exercising
    41% of Victorian women are too embarrassed or intimidated to get active
    Three in five Australian women are not sufficiently active, participating in less than 30 minutes of physical activity on four or more days a week
    One in five don't do any physical activity in a week