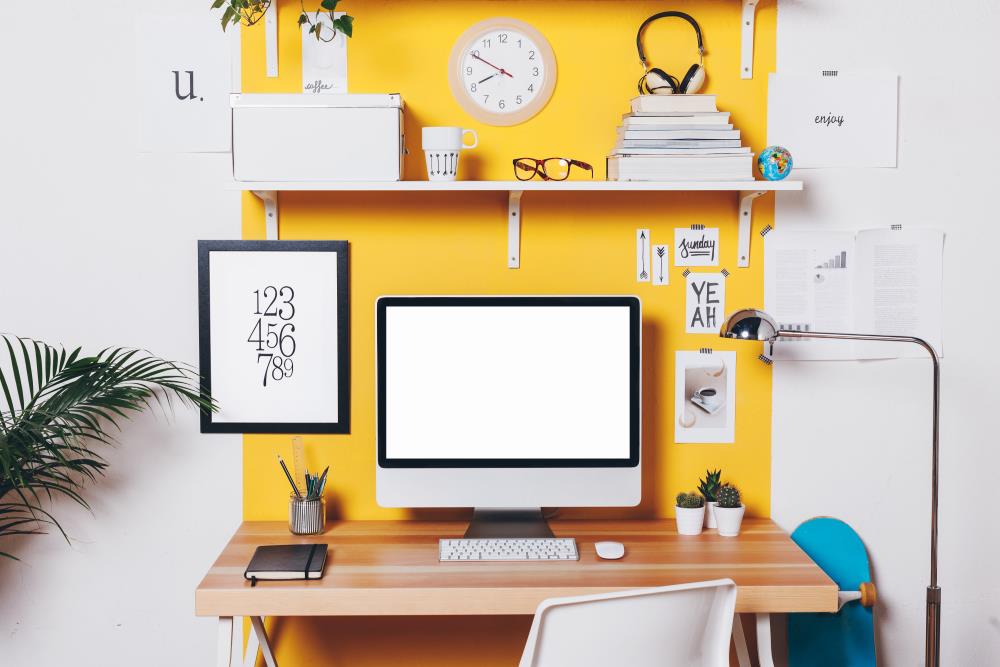 55 percent of Australians feel that they can produce the same quality of work working from home. But that means they'll need somewhere to work — the kitchen counter with the kids running around just won't do it.
But the six-part office set up from Ikea that costs $2,000 doesn't work either.
So how do you set up and create a home office design that won't break the bank?


Shop Vintage for Desks


Not only does shopping in thrift or consignment stores save you money, but it also saves the earth, too! While it's easy to order something quick from Amazon, there are resources used in shipping and manufacturing.
Vintage desks are usually more sturdy (less wood board, more wood). While they can be heavy and a pain to get from the store to your home, they're more convenient.
A lot of people enjoy vintage or consignment shopping. It's so easy — a lot of the time you can do it from your phone.
Check out the Facebook Marketplace, for example. People list their furniture on there at very low prices, especially in college towns when someone needs to get out of a lease, fast.
Obviously, you need to check the condition of an item before you buy it secondhand. Make sure it's assembled before you buy it (or that there's a return policy if you have to reassemble it).
Open the drawers, sit down at it, and give it a little shake. You don't realize how much movement typing makes until you're sitting at a shaky desk.
Other things to note are the height of the desk. Do you need to buy a new chair to fit at it? Some desks have low thresholds that aren't friendly to people with bigger thighs.
Most of the time height isn't an issue, but an adjustable chair can only do so much.
Finally, you want to measure the desk to make sure that it will fit in your space and fit through your house and in your car. If you get it home and it's too big — you're pretty much out of luck.


Spend the Money on Ergonomics


We can't stress this enough. You don't want to be sitting on a hardbacked wooden dining chair at your desk. Your butt will go numb and you'll develop tailbone pain.
Invest in a highly reviewed ergonomic chair. You can get them on Amazon or any other home-furnishings online site.
They can be expensive, in the $100 to $150 range, but they're worth it. Imagine if you don't invest in an ergonomic chair and you develop lower back pain from sitting.
A massage to work on the affected area costs at least as much as a chair — and it's doubtful that one treatment fixes the issue.
Don't know what you're looking for? You want a chair that has an adjustable height so that you can cut down on neck sprain (from looking up or down at your computer).
It should have armrests if you like them, but don't worry about them if you don't.
A lumbar support system is essential. That means that the chair seems to curve towards you about four to six inches from where the back cushion meets the seat. This will keep you in good posture and reduce pain/long term health effects.
You'll want a chair that swivels, if not spins. It's better for you to turn your hips towards the other side of your desk when reaching for something than try to reach across your body.


A Computer Stand


A lot of us only use laptops now for work, and they're great — portable and light.
Except they're not great when it comes to height. Doctors say that your screen should be about eye level with you when you're sitting at your desk.
That way your neck stays in a neutral position when you're staring at the screen all day.
If you don't want to buy a tower, you can just buy a monitor and hook it up to your laptop via an HDMI cable. If you have an old flat screen tv, that can work as your display screen too.
If you already have a screen and don't want to buy a fancy monitor stand, stack some large books underneath it. You can even find a desk organizer with a wide base and turn it on its side, placing the monitor on top of it.
Now you have a healthy neck angle and a place to put those random papers that always pile up.
If none of those options thrill you, at least tilt your screen back so you can read it at a higher angle. Or try sitting lower at your desk — but then you risk not typing correctly.


Get a Mouse


If you're using your laptop, that's fine, but you should invest in a Bluetooth mouse (and get a mousepad). We get used to using a laptop's touchpad, but a mouse is so much faster.
If you're going the external monitor way, you'll want to invest in a Bluetooth keyboard too. Most are sold in sets, so you can check both off your list with one purchase.


Think About Placement


While it'd be nice to have a desk that faces a window overlooking your yard — will you get anything done that way? Some professionals think that you shouldn't decorate your office at all.
They believe that the lack of decor will encourage you to get your work done faster because your subconscious wants you to get back to a more aesthetically pleasing room.
Plain white walls are a little extreme but do find a way to minimize distractions. Even if it's just a blind for that beautiful window.
There's no reason that decorating your home office should make you need to apply for personal loans for self employed people. You can do it on the cheap and leave those loans for your actual business.


One Final Tip on Home Office Design


You may or may not be able to write off your home office design furniture as a business expense — you'll have to talk to your accountant about that
Speaking of taxes, take a look at this tax news.