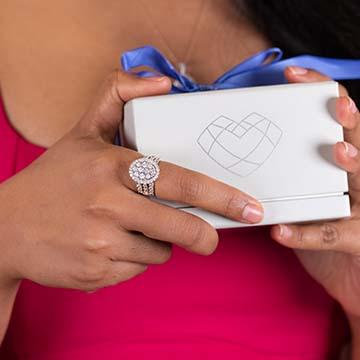 With the big day just around the corner, it goes without saying that you want to look your best from head to toe. And this includes picking the right jewellery to match your wedding dress.
You will want to make sure that the jewellery you wear complements your bridal look without clashing with your dress while not going overboard. You'll also need to consider what the groom's outfit looks like and whether it will clash with your overall look.
To make life easier, here is a list of things to look out for when trying to figure out how to match your jewellery with your wedding dress. 
Your personality matters
To avoid disappointment, always stay true to your personality and preference. Any jewellery you choose should be a reflection of you and your style.
Picking something that reflects you will guarantee comfort and confidence on your big day. It is good to listen to the advice given by friends and family but don't let these opinions sway your decision. 
Always remember that it's your day and it's your choice. 
Pairing jewellery with your neckline 
When you choose a necklace, you need to ensure that it doesn't get in the way of your wedding dress design.
Here are some proven jewellery pairings that work well according to the neckline styles:
Strapless - great for a large pendant necklace.

Sweetheart - a small dainty necklace that sits just above the neckline works wonders.
Halter - you won't wear a necklace here so opt for some statement drop earrings instead.
V-neck - works fantastic with drop pendants.
Off-shoulder - suits a small dainty necklace that sits close to your neck.
Suit your hairdo
Adding earrings to your look will draw attention to your face and finish your hairstyle nicely. 
You'll need to choose the right earrings to accompany your look as you won't want them to get lost among your hairdo.
If you're going for a classy, traditional look, opt for a pair of diamond stud earrings which will suit any hairstyle. Drop earrings are ideal for hairstyles that are held up as they won't tangle up in your hair. 
For the classic elegance, go for pearl earrings. And if you're looking to be more modern, hoop earrings will help you achieve that look. 
Matching your jewellery with your engagement ring and wedding band
The most prominent jewellery on your wedding day is your engagement ring and wedding band. These are the pieces that should stand out as they are exemplary of your big day ahead. 
As such, you will want to pick jewellery that matches and does not clash with your engagement ring and wedding band. White gold rings and bands look impressive when paired with diamond jewellery. On the other hand, gold and silver wedding bands pair nicely with pearl jewellery. 
For those looking to make a bold statement, you could always choose your birthstone jewellery to inject vibrant colours into your look. 
Don't forget that the most important accessory of all is your self-confidence. With the right jewellery that makes you feel comfortable and confident when wearing them, your overall demeanour will be wholesome and complete.
Enjoy the process of selecting the most suitable jewellery for you on your big day, and know that if it feels right, it is right.