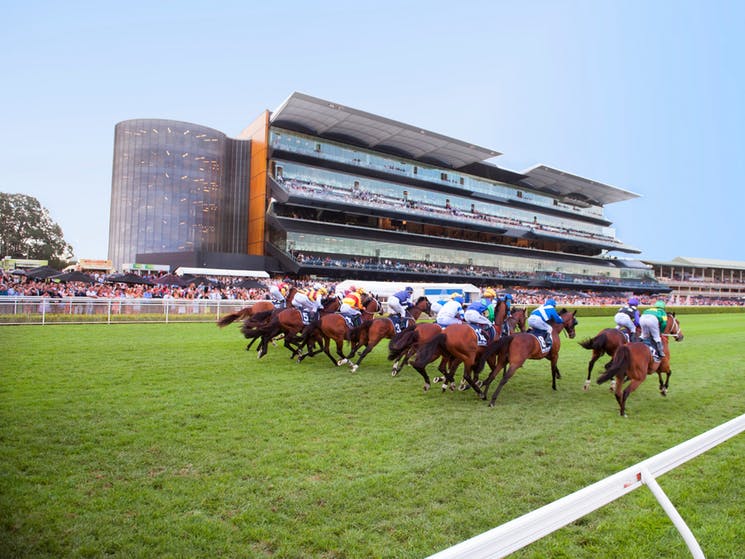 Ditch the fascinator and channel Blair Waldorf this Spring Racing Carnival by embracing the year's biggest accessory: The Headband. From pearl-encrusted slim-lined headbands to padded crown-like versions, finding the perfect headwear has never been so much fun. Here are five reasons you need to find a headband for spring racing now.
1. Prada showed headbands at their SS show - And Miuccia Prada is the ultimate style dictator
Prada's Spring/Summer runway show featured more headbands than we've ever seen on the runway, well, since the 90's, and we loved it. Padded and puffy, these headbands created a colorful halo to frame the gorgeous models as they made their way down the catwalk. This fresh take on the classic 90's headband made us scramble to find our own for the Spring Racing Carnival.
If the Prada puff is a bit extreme for you, no worries, there are more subtle options. Great brands offer headbands with a central knot, turban-style, to give you that Prada puffy look without the extreme height.
2. Pearl headbands work with every race day wardrobe
Great accessory brands have blended jewelry with headwear this season, offering gorgeous pearl headbands as a spring racing accessory. A pearl headband is super versatile for the entire Spring Racing Carnival as it works for Derby day's monochromatic dress code, as well as the feminine lady's day theme. Plus, it makes planning the rest of your jewelry simple: pearl studs are a must.
3. Florals, for spring, are finally groundbreaking
Forget Miranda Priestly, this year florals are truly groundbreaking thanks to their new position on top of your head. Channel the exceptionally bold and beautiful headbands from Dolce and Gabbana's SS19 show with your own floral headband. Choose from headbands crafted with tiny, delicate flowers for a subtle take on the spring theme, or go all out with a headband complete with two stunning roses on your head. The dramatic flower headband is the perfect way to elevate a simple dress, or transform a dress you've had for years into an entirely fresh outfit.
If you're feeling like channeling more 'queen of the fairies' than Italian temptress, great accessory brands have created halo headbands with an entire row of fine flowers that sits out from your head to create the illusion of height and royalty all in one.
4. You can wear your spring racing headwear again and again
How many times have you worn that fascinator you bought for last year's spring racing carnival? We'll bet never. Unless you're invited to Princess Beatrice's royal wedding next year, it's doubtful you'll ever wear it again.
Thanks to the chic new headband though, you can re-wear your spring racing headwear after the carnival has ended. From beaded headbands to floral designs and pearls, your racing headwear has never been so versatile. If you choose a neutral color such as white or black, you're even more likely to wear it multiple times throughout the carnival, and at weddings and black tie events long afterwards.
5. Your headwear won't fall off (or blow away)
We all know the Spring Racing Carnival can be windy, rainy or fine, after all, it's Melbourne. One of the challenges of the carnival is being able to catch your hat as it blows off your head before it crosses into your neighbor's carpark or over the fence. With this season's headbands, this worry is completely eliminated as you won't loose your headpiece unless someone forcibly removes it.
Stay on trend this Spring Racing Carnival and follow Jessica Alba and Elle Fanning's lead by embracing the headband. It'll keep you looking chic, while also becoming a wearable accessory in your post-Carnival wardrobe.