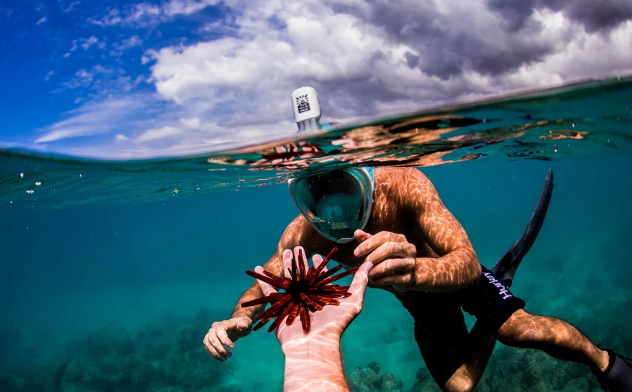 Are you about to go on our tropical beach vacation? if so then you need to pack your snorkel, but hold up! during the last few years,
full face snorkel mask
have exploded in popularity around the world! These new styles of snorkel mask offer a more natural feel, design and breathing pattern then traditional snorkel sets. We tested many different full face snorkels and noticed several benefits, this included beginners feeling more confident and comfortable in the water, also their entire face is protected from water contact, making first-timer snorkelers feel safe.
Now some people still feel sceptical towards these new full face snorkel masks, with some not ready yet to throw out their old, sandy snorkel set! So in this article we will cover the pros of a full face snorkel mask, showing you the new design features that make these full face snorkels elite compared to the trainload set.  
What are Some of the Benefits that Make Pro & Beginner Snorkelers Use a full face Snorkel Mask?  
1. Natural Breathing Pattern
- When you're using a full face snorkel mask you can either inhale or exhale through your mouth and or nose. This is a much more natural form of natural breathing, keeping the user in a much more relaxed and comfortable state. When you use a full face snorkel you don't need to adjust to the new breathing pattern, great for beginners.  
2. Water Face Barrier
- A full face snorkel mask has a full face protection, meaning your entire face so protected from the water, that's right, you can even smile in your full face snorkel mask and not taste a litre of salt water. Also the full face snorkel contains a head strap in the rear, allowing the mask to comfortably sit around your head, without worrying about losing the mask.  
3. Built in Snorkel Dry System
- There are a lot of snorkel sets in the market that offer similar features but the full face snorkel mask takes the dry system to a whole new level. Most full face snorkels have a ball and float system that stops the ocean water from entering the breathing tube! these new age snorkel masks are specially designed to stop even the smallest amounts of water from entering the breathing system. This makes the it possible to dive underwater and not get your lungs full of salt water.  
4. Anti-Fog Breathing Technology
- Do you find your snorkel set always fogging up, well with the new full face snorkel mask that issue is totally gone. A dual vent system allows air to circulate throughout the mask, both inside and out! this process prevents fogging of the glass, leaving you with a clear view all the time.  
5. No Sore Jaw or Fatigue
- When using a traditional snorkel set you are constantly biting down on a snorkel piece, this can lead your Jaw to feeling painful and fatigued. Full face snorkel masks eradicate this issues completely, leaving you able to snorkel longer and pain free.  
6. Better 180 Degree Visibility
- Full face snorkels mask's have a curved lens that goes beyond and behind your eyes, this gives a clear 180 degree view throughout the full face snorkel.