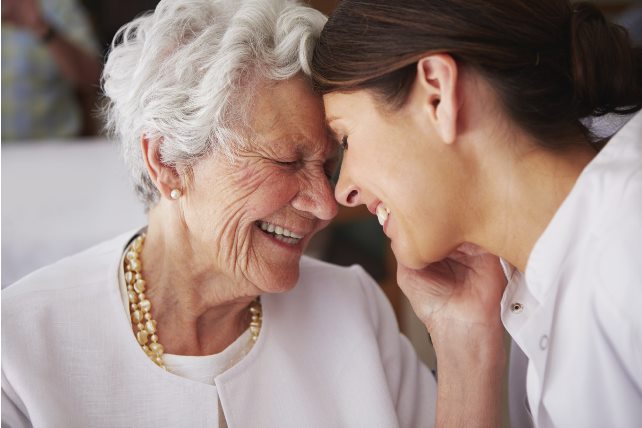 We've all seen the impact the spread of COVID-19 has had on
elderly residents in residential care facilities
throughout Australia, but what hasn't been reported as widely are the effects on millions of elderly people who still live in their own homes.
Some elderly people have been confined to their homes since the rise of cases in Australia in February and March, causing significant impacts to their physical and mental wellbeing. It's vital we continue to look after our elderly relatives and neighbours to ensure they have access to the right information, medical care, services and support they need during these difficult times.
Make a Phone Call If you have elderly neighbours or relatives one of the easiest but most effective things you can do is pick up the phone and give them a call. Check they are ok, and ask them what they need, but also spend time chatting. Your phone call maybe the only interaction they have had with the outside world all day, or even all week!
Check their Home is Setup for Independent Living Elderly people with mobility issues rely on friends, family and care providers to visit them in their home and provide assistance with everyday tasks such as getting in and out of bed, preparing meals, showering and living independently.
In some areas it hasn't been possible for caregivers to visit elderly people as often as they usually would, and people are having to fend for themselves more than usual. However with some simple home modifications, useful mobility aids, and careful removal of hazards, elderly people will be able to live more comfortably and independently at home.
Mobility aids such as
rollators
, shower chairs, toilet seat raisers, bath rails and electric lift chairs are relatively low-cost ways to improve mobility and independence in the home. More
complex home modifications
can involve stair lifts, ramps and celling hosts for example.
In some cases
government support is available
, however waiting times for in-home care packages can be substantial with
over 100,000 people
currently on the waiting list. Organise Supplies Many elderly people don't know how to shop online and some don't even have a credit or debit card! Venturing out to the local high street isn't an option for millions of at-risk Australian's at the moment and may not be for the foreseeable future in areas experiencing a resurgence in Covid-19 cases.
You could offer to shop for an elderly friend or relative, or organise a home-delivery from the local supermarket. Offer Support Long-term self-isolation can have determinantal effect on a person's mental-wellbeing. As well as regular phone calls, encourage your elderly relatives and neighbours to use the internet to keep in touch with friends and family, and join online communities.
Many elderly people are now using online tools such as Zoom and Skype to communicate with loved ones, and whilst they will never replace the real thing, it is much better than nothing. There are also organisations, such as
Beyond Blue
, who are providing access to important mental health support services during these difficult times. Be on the look out for signs of anxiety, loneliness or other mental health issues and encourage people to contact their Doctor or seek expert help sooner rather than later. Provide Access to Information There is so much conflicting information out there, and the rules seem to change every day.
This can be extremely confusing for some elderly people who are not sure what they are allowed to do and what isn't permitted. Provide people with updated information, and answer any questions they have. The Department of Health has a
useful information sheet for older people
.
Doctors have reported that people have been
cancelling important check-ups
and in some cases going without medication because people are worried about leaving the home to visit their GP surgery or pharmacist.
Many pharmacists are now offering home-delivery services, and GP surgery's providing phone or even online consultations to make it easier for everyone to get access to the healthcare they need. Hopefully we can all go back to hugging and kissing our elderly relatives soon, but until this pandemic is under control we need to do everything we can to support older people in our communities and help them to thrive at home.