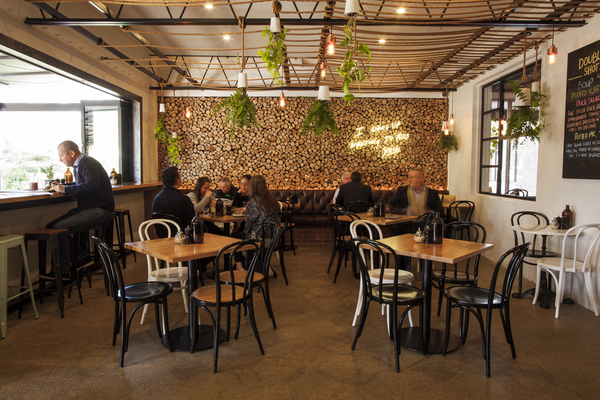 Canberra is a great treat for food lovers and diners are well catered for when it comes to healthy, yet delicious, options. VisitCanberra has put together a list of ten great spots to get a healthy food fix in the capital:
Eighty/Twenty, Braddon
The Eighty/Twenty philosophy is simple – food as fuel. Eighty per cent of the seasonal menu focuses on clean, natural and unprocessed wholefoods and there's also a cheeky 20 per cent for indulging. Think nutrient packed smoothies, homemade raw desserts and delicious salads. The cafe has gained a loyal following who regularly share their photogenic meals on social media.
Local Press, Kingston Foreshore
Local Press describes itself as a wholefood-based cafe committed to procuring and providing local and ethical produce. The menu is built around the freshest seasonal ingredients and you simply can't go past their Green Pea Pancake dish. Located on the Kingston Foreshore with water views and a relaxing atmosphere, this cafe is a great place to relax and enjoy a delicious and healthy bite to eat.
Capital Region Farmers Market, EPIC
Sample the Canberra region's freshest produce at the Capital Region Farmers Market every Saturday from 7.30-11.30am at Exhibition Park. The popular market has more than 100 stallholders each week offering their freshly picked, grown and hand crafted produce.  The friendly stallholders are happy to chat about where their produce comes from and even share the occasional cooking tip!
Maple + Clove, Barton
Located at the heart of the Realm Precinct within the leafy suburb of Barton, Maple + Clove has become a go-to destination for wholefoods creations. The wholesome meals are cooked using fresh, local, seasonal and wholefood ingredients. From bliss balls and matcha lattes to a dedicated running group, Maple + Clove is one to add to your list.
Elemental Cafe, Braddon
"Live primal. Eat local." The name 'Elemental' reflects this Braddon cafe's commitment to providing delicious food from basic, unprocessed and local ingredients. Another plus, the coffee on offer is a special blend from Canberra's own Red Brick Espresso.
Double Shot, Deakin
Complete with a hip, creative atmosphere, Double Shot is a place to unwind, indulge and get your local fix of fresh produce. A revolving and seasonal menu tempts the taste buds with gourmet weekly specials using the freshest of ingredients to suit all palettes. Next time try the Acai Bowl with seasonal fruits, mixed berries and granola.
Autolyse Juice Bar, Braddon
The popular Autolyse bakery on Lonsdale Street has a second shopfront close by selling their cold pressed juices. They source all their produce where possible directly from the farmer and inside NSW ensuring the freshest possible ingredients. The Happy juice with apple, pear, pineapple, ginger and mint is hard to go past.
THR1VE, Canberra City
Take a break from shopping up a storm at the Canberra Centre and grab something to eat at THR1VE. The delicious menu focuses on offering quality produce and proteins, always gluten free, and with no added sugar. The Dutch mini pancakes served with sliced banana and cinnamon are a winner.
Sweet Bones Bakery, Braddon
Sweet Bones is an organic vegan café and bakery in Braddon, known for its spectacular baked goods and delicious breakfast and lunch menus. Expect a rustic, rock'n'roll feel with a friendly local vibe. If looking for a lunch option, why not try the Big Breakfast? It comes with hummus, tomato, avocado, coconut bacon, lightly toasted Sonoma sourdough with a side of tofu scramble.
Mocan & Green Grout, NewActon
Močan & Green Grout is a NewActon café that's as much a design experience as a place to enjoy good coffee and food. They serve fair trade coffee, use produce from local farmers, and grow their own herbs in the planter at the front door. Make sure to grab a seat near the open kitchen and watch the culinary magic happen! 
For more travel inspiration, check out VisitCanberra's new blog at www.visitcanberra.com.au/articles