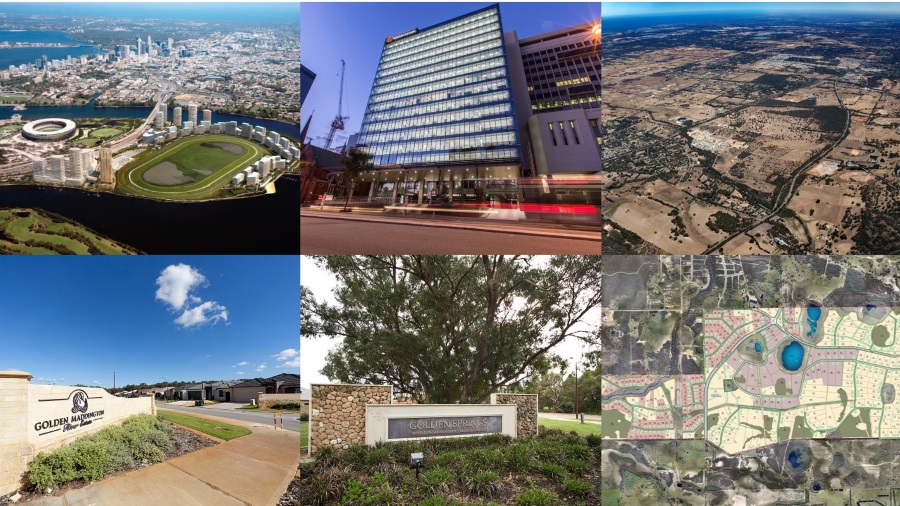 A brand new multimillion dollar redeveloped Swan River foreshore will soon be available to the public on the Burswood Peninsular after Golden Group signed off on a tender to begin civil works.
WA company Civcon Civil and Project Management has been awarded the $55 million tender for the Belmont redevelopment, which is set to transform the outdated Burswood Peninsular foreshore, which currently sits across the road from Perth's Optus Stadium.
Siteworks for Civcon's 18 month contract will begin today and include upgrades to the roads, Graham Farmer Freeway off ramps, and bike paths along with a new vehicular bridge connecting the precinct to Victoria Park Drive.
WA company Golden Group is investing $5.5 million of environmental landscaping to protect and upgrade the foreshore which will come alive with granite, mature aged trees, boardwalks, beaches, restaurants, retail and beautiful open spaces for all of the public to enjoy. Stage one of the new foreshore which is expected to be completed by early 2020, can be accessed via a water jetty, on foot, and via a car with with public parking available.
Golden Group's Managing Director Andrew Sugiaputra said the commencement of this development was an exciting time for Perth residents who will begin to notice Belmont Park transform into an attractive riverside precinct and make a much more enjoyable walk to link up to the stadium and the City.
"The tender for the development was selected based on Civcon Civil and Project Management's expertise in successfully delivering technically complex scopes of work across Perth, including contributing to Elizabeth Quay, the Perth City Link and Curtin University, which makes it well placed to be a part of history in developing this iconic area of our city," he said.
"The signing of this tender is a testament to the State Government's commitment to rebuilding WA's economy. To see investment of this scale going forward is certainly a sign of recovery in the Perth property sector," said Mr Sugiaputra.
Director and General Manager at Civcon Civil and Project Management Khanh Nguyen said "this is a significant development for Perth and I believe our expertise and in-depth knowledge of civil development will add value to what is already a game changing redevelopment for this city", Mr Nguyen said.
The entire $3.8 billion dollar project is set to inject more than $10 billion into the economy and generate 25,700 West Australian jobs as it transforms the peninsula with 4,500 residential apartments, and office and retail space.
The precinct will be marketed towards families, down sizers and young couples interested in inner-city lifestyle, who will have access to outdoor play spaces, a high-quality parkland setting, numerous recreation areas, cafes, a grocery store and child care facilities.
"Golden Group is leading the way with this type of revolutionised inner-city development. It will be a curated and obtainable community with a targeted 5-star Green Star Communities rating," Mr Sugiaputra said.


http://www.goldengroup.com.au/