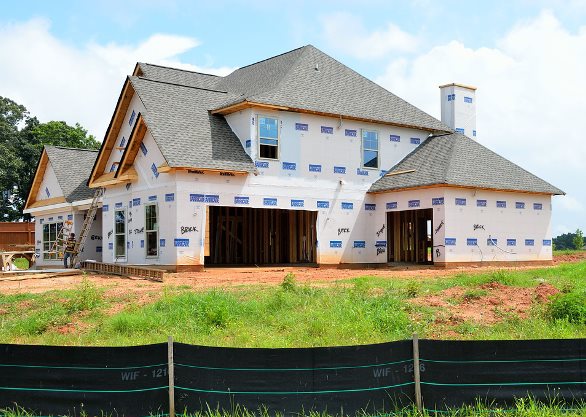 There are plenty exciting steps to take when you are deciding on building your new home. You can choose the materials from scratch, fully adjust the rooms to your needs, and show off your creative side. On the other hand, if you are currently short of cash, applying for a home loan is going to be much more complicated. Such loans are usually not as favorable since the whole venture is considered to be more risky – the house is yet to be built. There are always some unprecedented costs, market fluctuations, deadline extensions and so on.
On the bright side, there are several ways how to obtain the much needed funds, so let's run through them.
FHA loan
Federal government-backed loan is an option most popular with future home owners whose credit history isn't something to pride on. Also, this historical loan (its concept originates from the 1930s) is often chosen by low-income first home owners. Your credit score can be as low as 500, but if your credit score is higher than 580, you can get a down payment of 3.5%
Conventional loan
In order to apply for a conventional loan, you had better have some 10% or 20% to put down. Even if you haven't accumulated that much, obtaining this loan is still possible, but with some extra mortgage insurance premiums.
VA and USDA loans
These are loans for special parties. U.S. Department of Veterans Affairs provides loans for veterans, without any down payment or private mortgage insurance required. In addition, there is an option to take out a special loan with zero down payments, but your home has to be situated in a rural area with low population. Check the updated USDA eligibility map 2020 for the approved areas.

Construction loan
One of the most ubiquitous ways of borrowing funds for construction is this one. It is specific in a way that the payment differs during the building process and after it, which is seen as an advantage by many. Namely, you are paying interest only on the money you have borrowed while the house is being built. Once it is finished, only then is the interest accounted for the whole remaining sum. It sounds very convenient, but make sure to always check all the details in fine print prior to applying for one.
Bridge loan
Let's say you are putting your old house on sale while the new one hasn't been finished yet. This is exactly where bridge loan comes handy. The lender agrees to give you the money needed to finish the building. It sounds ideal, so where's the catch? Usually, these contracts are short term, so you don't have an unlimited period to wait for the sale. You can feel the pressure of selling your old home as soon as possible especially since this agreement usually requires the second mortgage. What is more, the rates are normally higher due to the risky nature of the business.
Builder financing
If you decide to opt for builder financing, one thing is for sure. Your house is going to be finished even before the deadline. Naturally, the builder will be very interested in completing the whole project on time and moving on to another client. Since the building company is providing the needed funds, you are saved from ton of paperwork compared to other loan ordeals. Nevertheless, interest rates and fees can add up to quite a lot, so it's advisable to do proper research before complying with the terms.
Energy efficient incentives
Going green has its perks for sure, so if you are planning on building an environmentally friendly home when it comes to energy consumption, you can count on some benefits. For instance, there is the Residential Renewable Energy Tax Credit for tax payers and builders harnessing solar power. Make sure you enquire about the possible financial advantages in your state, since the incentives aren't the same everywhere.
By the way, this is all valid only in case you are really planning on buying a second home, and not an investment property. Do not assume that these two are the same, because potential lenders certainly don't agree with you, and a fraud is very easy to detect.
Finally, whichever loan you decide on, bear in mind this is a lengthy process. Start by summing up the states on your accounts, and head from there. Your dream home is just a loan away.