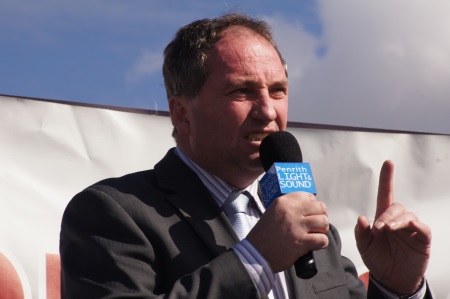 Indonesia has advised of revised regulations increasing the weight and age limit of live feeder cattle eligible for import into Indonesia
Import permits from the Trade Ministry and Recommendation letters from the Ministry of Agriculture will now be valid for 12 months
Weight limit increased from 350kg average weight to maximum 450kg
This will allow better business planning for exporters and increase the range of cattle eligible for export
Australia has welcomed Indonesia's advice today that it will make policy changes to import conditions for live cattle, providing more opportunities for Australian producers exporting to our largest and most valuable live export market.
Deputy Prime Minister and Minister for Agriculture and Water Resources, Barnaby Joyce, welcomed the practical approach by Indonesia aimed at achieving a more sustainable live cattle trade with Australia and more certain beef supply for Indonesian consumers.
Minister Joyce said the changes would allow better business planning for Australian exporters, increase the range of cattle eligible for export and ultimately improve returns at the farmgate.
"In contrast to the Labor Party that infamously shut down this vital industry to both Australia and Indonesia, the Coalition Government is working hard for farming families supplying cattle to Australia's live export trade," Minister Joyce said.
"With industry by our side, we have consistently worked to strengthen relationships with our Indonesian counterparts to ensure a sustainable and more reliable live export trade by advocating for these changes over many years.
"Import permits have now been extended from four months to one year. This is great news for both our farmers and exporters as it brings greater stability to the trade and allows for longer term planning.
"With an increase in the weight limit from 350kg to 450kg for live feeder cattle, alongside an increase in the age limit, Australian farmers will have the ability to produce a greater range of cattle for the Indonesian market at competitive prices."
Minister Ciobo said today's advice would further strengthen bilateral relations between Indonesia and Australia, alongside the mutual benefits it delivers to both nations. 
"Australian agricultural exports to Indonesia were worth $3.1 billion in 2015-16—including live cattle exports worth $578 million, making it our biggest market for feeder cattle," Minister Ciobo said.
"We have come a long way from the disastrous decision by Labor to ban live cattle to Indonesia in 2011 which blindsided the Australian cattle industry and undermined confidence in Australia as a reliable trading partner.
"By giving more certainty to the live export trade, today's announcement lays the foundation for the value to continue to grow into the future.
"At the same time, Indonesia's importers will be able to source a wider range of live feeder cattle, which should lead to more sustainable prices through the supply chain."
Minister Hartsuyker welcomed the changes as mutually beneficial for both parties.
"These are great outcomes for Aussie producers and exporters and it also expands the range of options open to Indonesian importers and consumers—it's a win-win situation," Minister Hartsuyker said.
"It is good news for the nation, reaffirming the strength of our live export industry, which contributed $1.9 billion to the Australian economy in 2015–16 and employed more than 10,000 people within and beyond the industry."
Fast facts
The Indonesia-Australia Partnership on Food Security in the Red Meat and Cattle Sector has been working to strengthen our trade and investment relationship through policy dialogue and extensive practical cooperation since 2013.
In addition to annual training courses for Indonesian cattle industry participants on Australian cattle stations, the Partnership is investing in a three-year pilot cattle breeding project in Indonesia, with Australia providing $9 million to the project.
The project aims to develop commercially viable beef cattle breeding business models in Indonesia, potentially opening up investment opportunities and increasing demand for Australian breeding stock.
At the request of the Indonesian government, Australian live cattle industry representatives participated in a recent working group to provide advice and recommendations on how Indonesia's breeding import policy could have the best chance of success.