Written by

Yellow Panda PR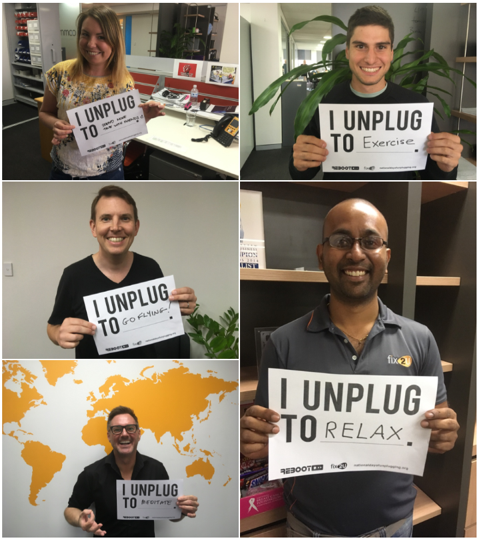 Encouraging Australians to Take a Digital Detox from Sundown
Saturday March 10 to Sunday March 11 2018.

SYDNEY (February 19, 2018) – As a growing number of the tech leaders behind smartphone devices and their compulsive features step forward to speak out against tech manipulation, the National Day of Unplugging offers a 24-hour respite from the never-ending torrent of text messages, push notifications and smartphone games hijacking our time and attention.
In Australia on Sunday March 11, the National Day of Unplugging, created by the global nonprofit Reboot, and bought to Australia in 2018 by the Australian on-demand iPhone & iPad repair business fix2U.com, will demonstrate the positive impact a 24-hour digital power-down can have on individuals, families and entire communities, giving people a collective break and a reset on their technology use.
From "fake news" to real news, people in every corner of our increasingly global world are struggling to keep up with push notifications and the bottomless information scroll.
We take digital devices with us everywhere and we've become immune to the ways they distract our society with more than nine billion interruptions per day. Eighty-seven percent of people wake up and go to sleep with their smartphones, tech experts say, and according to a 2016 study, on average people swiped, tapped or clicked their phones 2,617 times each day.
Adults between the ages of 18 and 24 sent and received an average of 128 texts a day in 2016. The trends show these numbers rising every year at an alarming rate. The National Day Unplugging encourages everyone to stop and unplug to take stock of themselves, their lives and their surroundings.
Rex Scrivener, Australia's National Day of Unplugging advocate and co-founder of fix2U.com, champions the mounting concerns that technology is having on society.
"As a father of two young kids I find myself spending increasing amounts of time and energy managing how my kids use their devices. There's just so much to have to think about, from keeping an eye on screen time, to kids rushing off from the dinner table to get back to their devices, to fielding the daily complaints about the speed of the home WiFi."
"For me, the National Day Of Unplugging provides a great opportunity to not only spend some more time with my kids, but importantly it gives us a reason to sit down and talk about the ideas behind the day and how unplugging a bit more regularly going forward could be a positive thing for the whole family."
fix2U co-founder, Sam Walker said he and his business partner reached out to Reboot in New York to put their hand up to bring the day to Australia.
"Despite building a business that's all about repairing these distracting yet essential devices we hope to create a positive legacy through our efforts to see this as an annual practice for Australians to take part in each year."
In an effort to raise awareness prior to the 24-hour lock-down, Rex, Sam and their team of trusty Repair Heroes will be taking the campaign to the streets of Sydney to hand out the event's official smartphone-sized sleeping bags, encouraging the public to put their device away for the day and take the pledge to unplug.
This will be one of 500 live unplugging events happening around the world to encourage smartphone users to surrender their phone for 24-hours.
The fix2U.com founders will also be asking Australians to take the National Day of Unplugging Pledge with an "I UNPLUG TO_____________" poster which they can then share via social media to amplify their decision to take a tech break.
"Technology is both one of the most helpful and potentially troubling modern-day advances – making communication easier as a global community, but also feeding addictive behaviors that often supersede human interaction," said David Katznelson, Reboot's executive director.
Worldwide in 206 countries (including far-flung places such as the Bhutan, the Isle of Man, the Aaland Islands, Mongolia, Andorra, and Kazakhstan), more than 112,000 people have been engaged directly in 1,000 unplugging events just in the past five years.
About the National Day of Unplugging
The National Day of Unplugging has roots in the Jewish tradition of the Sabbath, but the modern day of rest was developed in 2010 for people of all backgrounds as a way to bring balance to the increasingly fast-paced way of life and reclaim time to connect with family, friends and our communities. The NDU has resonated around the world with people of all backgrounds, from Catholic to Hindu, Buddhist, and Muslim and has been embraced by a range of celebrities and brands including Arianna Huffington, Jill Soloway, and Tiffany Shlain, the Blue Man Group, Chester the Cheetah, M&M'S and Harlequin Books. Visit www.NationalDayOfUnplugging.com to learn more.
About fix2U.com
fix2U is an Australian-owned company, who specialise in onsite iPhone and iPad repairs. The company was founded on the need for a Nationwide, on-demand repair service. They champion the idea of eliminating the inconvenience and reducing the cost associated with getting a device fixed by providing a service that meets customers at an address of their choosing for an on-the-spot repair. A number of recognisable companies also currently utilise the service on a corporate level.