Written by

Tess Sanders Lazarus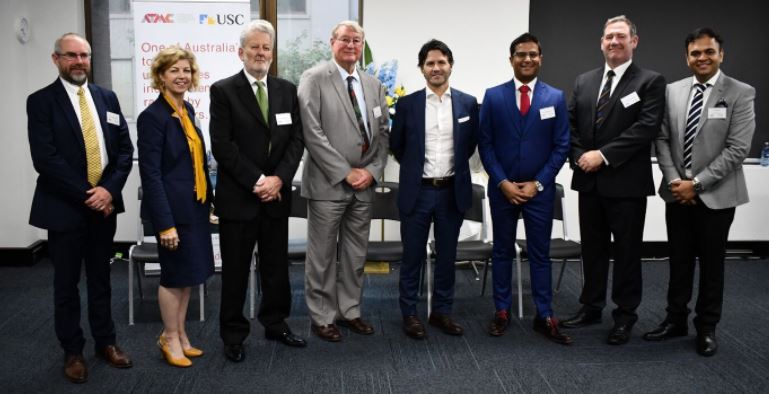 A partnership between the Australian Technical & Management College (ATMC) and the University of the Sunshine Coast (USC) has led to the creation of a brand new university facility in the center of Sydney.
Officially opened on Thursday 5 April, the new Kent Street campus is a 'Managed Campus', designed specifically to improve the experience of international students.
Officially opened by a ribbon cutting ceremony, the event was officiated by Professor Greg Hill, Vice Chancellor and President of USC, the Hon Victor Dominello, MP, NSW Minister for Finance, Services and Property, Dr Manish Malhotra, Founder and CEO of ATMC, and Professor Mike Clements, Chief Academic Officer of ATMC.
Professor Clements said the campus engages a unique system "that keeps students engaged and connected to Australian business, culture and education."
"Their concept of delivery is based around a combination of academic excellence and expertise; along with a highly focused student-centred approach where the student experience is paramount," Professor Clements added.
"The managed campus approach means that students are offered real-world skill development and multiple pathways through partner universities. We put great emphasis on employability and meaningful outcomes for our students and that reflects well on the universities that we partner with.
"In practical terms, this means that international students take home more than just degrees. They also take home an understanding of Australian culture, communication styles and an insight into how we do business."
Australia's inbound education market brought in close to $27 billion in revenue in 2017 and is set to keep growing.  ATMC and USC see their new Kent Street campus as a key step in supporting the growing number of international students in Australia, and as a way of furthering their educational reach.
A total of 592 students and faculty staff will attend the Kent Street Campus, which will be a dedicated USC campus catering specifically to international students.
"Managed Campuses are an invaluable way for universities to cater to their international students. The focus on student retention, smaller classes, and services to improve student well-being mean ATMC campuses are a much more welcoming environment for international students.  ATMC campuses allow students to gain a better understanding of Australian culture and society, and they go beyond teaching to foster long term relationships and create a global community," Dr Manish Malhotra said.
"Our partnership with ATMC and the new campus will enable USC to extend our reach, courses and innovative approach to high quality practical learning to the fast growing Sydney higher education market space," Professor Greg Hill said.
"While Queensland is currently showing off the state's great range of sporting facilities at the Commonwealth Games, we are proudly showcasing the state's high caliber approach to education right here in Sydney and we are looking forward to welcoming students to the new campus this year."
The new campus will focus on the delivery of business courses including undergraduate and post graduate degrees.  ATMC partners with three leading Australian universities that specialise in Information Technology and Business: Federal University Australia, Charles Darwin University, and the University of the Sunshine Coast.
ATMC USC Sydney Campus
432 Kent Street
Sydney NSW
http://www.atmc.edu.au/courses/university-of-the-sunshine-coast