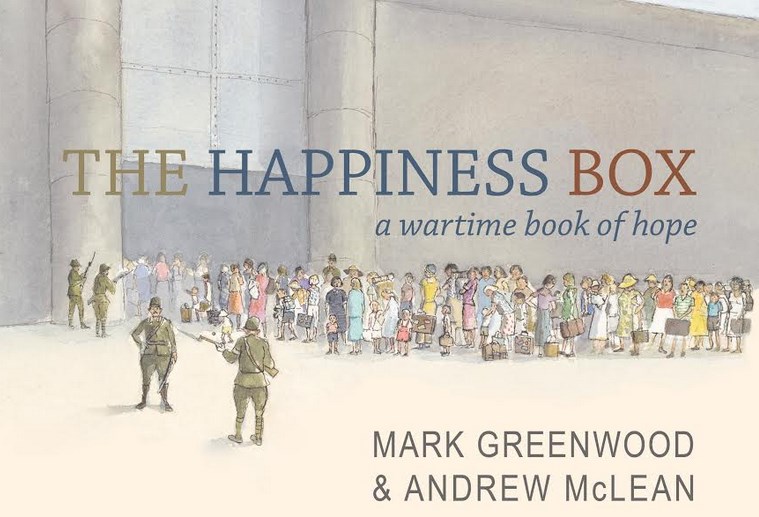 The Happiness Box by Mark Greenwood is the ultimate treasure for this year's Book Week


A book about a book, created for children during WWII
In 1942, Australian sergeant Sir David "Griff" Griffin was a prisoner of war, held for three years and seven months in Changi Prison, Singapore. With Christmas approaching, Griff decided to make a book called The Happiness Box for the children interned in prison to chase away fear and inspire hope. With this year's CBCA Book Week's theme being Find Your Treasure, the timely release of The Happiness Box – award-winning creators Mark Greenwood and Andrew McLean's book of the same name – brings to life the inspirational true story of a book that became a National Treasure. 
The Happiness Box was said to contain the secrets to happiness, but the enemy was suspicious. The book survived the war, having been buried by a senior officer in a cordite container. After the Japanese surrender, the book was returned to its author.
Written in extreme circumstances, the original book holds a prominent place in both Australian and Singaporean children's literary history.
In 1990, Sir David Griffin donated the original book to the State Library of New South Wales, where it remains to this day. Between 2005 and 2007, hundreds of thousands of Australians saw the original book when it toured the country along with Sir Don Bradman's cricket bat, Ned Kelly's helmet and more than one hundred significant items, in the National Treasures from Australia's Great Libraries exhibition.
While researching The Happiness Box, Mark was in close contact with Sir David Griffin's son, Edward Griffin, whose knowledge was generously shared throughout the creation of this book.
Says "History Hunter" and author Mark Greenwood, "I am interested in blending history and story to create picture books with resonance, and that is what is lurking deep beneath the surface of The Happiness Box and what makes this book meaningful and important. At its core, The Happiness Box is a story about the power of reading and how books might very well be one of the secrets to our happiness – a great message to reinforce the power of books and storytelling."
The Happiness Box is a beautifully illustrated and well-researched book. Not only is it an amazing resource for educating children about World War II, it is also a stunning story about the importance of happiness, friendship, compassion and courage. The story is accessible and uplifting, and is the perfect addition to any school, library or home bookshelf.
About the Author
Mark Greenwood is an author with a passion for history. His books have twice received the West Australian Premier's Book Award. Simpson and His Donkey was a CBCA Honour Book and a USBBY Outstanding International Book. Jandamarra, illustrated by Terry Denton, was shortlisted for the Children's Book Council Awards and the NSW Premier's Literary Awards for Children's Literature. Mark often teams with his wife, illustrator Frané Lessac, to produce books that promote an understanding of multicultural issues, such as Drummer Boy of John John, Magic Boomerang and Outback Adventure. Their other books include Ned Kelly & The Green Sash, winner of the West Australian Young Readers' Book Award, and Midnight - the story of a light horse, a CBCA notable book. Mark's chapter book series, History Mysteries, delves into some of Australia's most baffling mysteries. His new picture book is The Happiness Box.
About the Illustrator
Andrew McLean grew up in the Victorian country town of Bairnsdale. He trained as a painter and teacher, and taught in secondary schools before becoming a lecturer in painting and drawing at Caulfield Institute of Technology. He has been a full-time artist now for more than thirty years. Andrew and his wife Janet have created many picture books together, and Andrew also illustrates books written by other authors. Many of his books have been award winners: he has won the Children's Book Council of Australia Book of the Year Award three times. Bob the Railway Dog (written by Corinne Fenton) was his first work with Walker.
WALKER BOOKS AUSTRALIA
Walker Books Australia has been bringing the best of children's publishing to Australia and New Zealand for over 20 years. The company is dedicated to publishing books of unwavering quality for children and young adults to read and treasure. Walker Books Australia is also passionate about the Australian Children's book industry and is a haven for the most highly talented authors and illustrators, both emerging and award-winning. Walker Books Australia is proud to be the home of Black Dog Books, an award-winning imprint with a reputation for publishing some of Australia's finest writers including Carole Wilkinson, Sue Lawson and Suzy Zail.