Written by

Drew Bowering, Senior Director, Market Management, Expedia Group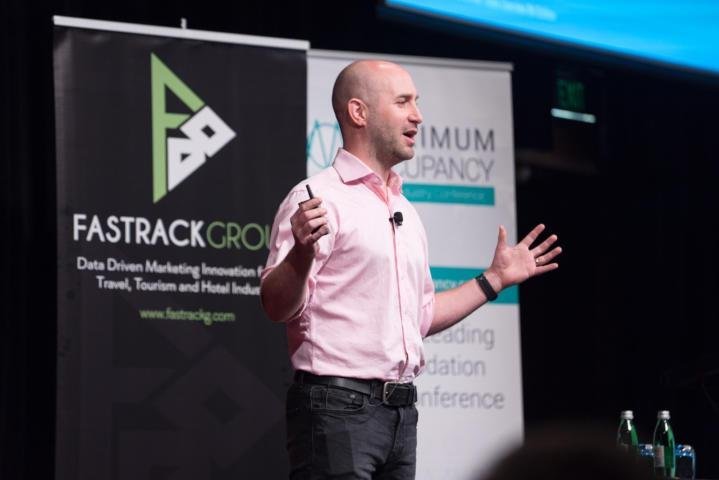 Digital disruption. We've heard the phrase time and time again, so much so I feel it's lost its true meaning.
For many Australian businesses, technological evolution can be overwhelming - seen as a drain on resources, budget and, ultimately, as a negative change in the fundamentals of how a business operates.
We need to shift this thinking. Instead, I argue that technology provides local business with the greatest opportunity to allow independent players to compete on the world stage, no matter their size or budget. And it is those that embrace this mentality that will thrive in today's digital world.
How? In the biological world, we refer to it as a symbiotic relationship. I believe digital disruption should be viewed in the same way, in that the best success lies in a partnership between small and big players; a partnership where both mutually benefit.
You see, the technological investment and capabilities of major players can, in actual fact, level the playing field for smaller ones.
I've worked with Expedia Group for more than a decade in the Lodging Partner Services division, which in short operates to help hotels achieve the highest return from their collaboration with us.
So, let's utilise online travel agents and hotels as an example of how we adopt the symbiotic relationship in terms of riding the wave of digital disruption.
Online travel agents were initially considered the digital disruptor of the travel world - a new predator, if you will. But now, speak to savvy hoteliers or industry experts and often their perception of OTAs has changed. Why? Well, the rapid speed of digital disruption has created, to again borrow a term from biology, adaptive evolution. Enter the symbiotic relationship, whereby success in today's digital landscape comes by working together instead of against.
By leveraging the technological assets and scale of a global platform, aka Expedia Group, independent hotels can now outpace their larger counterparts more effectively.
When you think about the fact that one in three Australian tourism operators don't have their own online booking systems, you can start to put into context how simple a symbiotic relationship could be as a solution for independent players.
Let the big global players invest billions in technology innovation so that independent hotels, for whom technology is not a core competency, don't have to. But also, in doing so, still have the global reach and meeting of customer service expectations to continually drive profitability.
It's not just our distribution network but also our asset bank of real-time data and free operational tools that our hotel partners, particularly independents who don't have the resources and budget to invest themselves, value most. It's this global intelligence and industry-leading technology that allows them to compete with big chains in a way they've never been able to before.
Take price setting for example, which is arguably the most critical factor behind profit margin. The best description of revenue management I've heard from a hotelier is that it's like doing your taxes, every single day. It's an area of operations that our insights show hotels spend an average of one to three hours on per day.
Hotels can perform this manually, but you can imagine the drain on resources and ineffectiveness of this method. Alternatively, they can sink significant chunks of budget on a third party platform, which may be within the means of a large chain of hotels but not your mum and dad business. Or a hotel can leverage the free tools provided via their Expedia Group partnership.
Our revenue management solution, Rev+, was designed specifically with the feedback of our hotel partners. Rev+ draws pricing intelligence from our live and global portfolio of travel brands all in real-time. Consider this: the data set that Rev+ leverages today experiences close to 2.3 billion price and availability changes per day - the equivalent of almost 20,000 changes every second - you can imagine how imperative this agility is for competing effectively. In fact, our latest data shows that hotel partners who engaged with Rev+ enjoyed 21% incremental revenue uplift in revenue than the hotels in their competitive set not using Rev+, generating US$ 26 million incremental revenue combined.1
Crucially, as a free tool provided to all hotel partners of any size, Rev+ provides independent hoteliers with access to revenue management technology that enables them to compete on a global scale – and on a more level playing field.
After all, we have some of the most talented engineers and analysts in the world and this same group of engineers are the ones who work on the B2B tools for our partners.
So, let the online travel agents pick up the bill for developing the technology that meets rapidly evolving customer service expectations. And in doing so, let our independent hospitality players go back to what they do best: providing travellers with exceptional hospitality.
It's a mutual relationship where the true winner is fair competition; a lesson from biology that the tourism business is learning, and one that others alike can adapt.
1 Source: Last 12 months revenue performance estimates of hotel partners highly engaged with Rev+ compared with partner's competitive set. Controlled for seasonality, Expedia Group November 2018