Written by

Camilla Nelson, Associate Professor in Media, University of Notre Dame Australia
Young people – how they think and feel, how institutions (families, schools, clinics, courts) fail them – are a recurring theme in the books shortlisted for the 2019 Stella Prize.
These six surprising books – four novels, a memoir and a collection of essays – cover subject matter as diverse as grief, loss, history, childhood, and Indigenous resistance. They make risky aesthetic choices. Some feature dazzling experiments with language, structure and form. Despite, or, more likely, because of this, they also have a tight grip on reality.
They are searing and often searching; intent on excavating the "present's beating heart". They share an attitude that is daring, sometimes darkly funny, always serious and thoroughly unsentimental. These books are difficult to sum up or pin down. Here is our critical guide to them.
Little Gods, Jenny Ackland
Olive May Lovelock is blessed with the sunny kind of optimism that is typical of an Australian childhood, set against the broad flats of the Mallee. She saves a joey, and tames a raven named Grace. She checks the warm wombs of roadkill for babies. Olive wears an old pair of binoculars around her neck to "see things better", but life proves deceptive.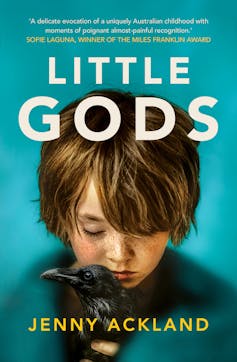 Authors: Camilla Nelson, Associate Professor in Media, University of Notre Dame Australia
Read more http://theconversation.com/six-books-that-shock-delve-deeply-and-destroy-pieties-your-guide-to-the-2019-stella-prize-shortlist-114829