Written by

Danielle Clode, Senior Research Fellow in Creative Writing, Flinders University
I had a momentary brain-fade when I went to the movies this week.
"Three tickets to … what's it called again?" I asked.
"Endgame", the ticket seller replied firmly, "What other movie is there?"
At over three hours long, it certainly is a movie for the fans, packed full of emotionally satisfying vignettes and snappy interactions for the cast of thousands that has become the Avengers trademark. I don't think I've ever watched a faster three-hour movie.
Avengers: Endgame, the concluding half of Avengers: Infinity War, has quickly become one of the biggest grossing movies of all time. By pure numbers these are important and influential movies. So what are they are telling us?
Let me say at the outset that this is not a critique of the movie itself. I'm not going to document plot holes, flaws in logic or whether or not the science is correct. I'm happy to suspend a bit of disbelief for the sake of a good story. But I am interested in the function that stories like these play and what they reveal about our broader hopes and fears.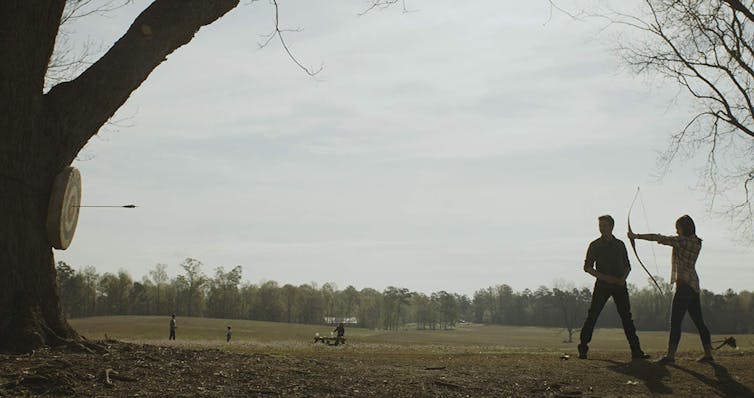 Marvel Studios/IMDB
Although not pitched as one, Endgame is an environmental movie – and an apt one for our times. Its predecessor, Infinity War, saw the world under threat from powerful villain Thanos, whose home world had been destroyed by overpopulation and resource exploitation. His grief sets him on a quest (involving, naturally, a gauntlet studded with variously magical and powerful stones) to halve the population of the universe.
Despite being cast as the antagonist, it is Thanos's character who undertakes the "hero's journey" in this movie. By the end of Infinity War, Thanos manages to achieve his goal across the universe, without violence – painlessly and humanely, with a click of the fingers – wiping out exactly 50% of the population at random, all at once.
It's a little unclear in Infinity War what Thanos intends to reduce: half the human population or half of all sentient life. His track record had focussed on people, killing "people planet by planet, massacre by massacre". In Endgame the goal is broadened. Not just all humans or even all sentient life forms, not just the resource exploiters and over-users, but half of all life forms. It's a telling ecological misstep.
Clearly, it's the people that matter and humans in particular. Despite having the breadth of the universe as a stage, even the alien Avengers are strikingly Earth-centric, with the exception of Captain Marvel/Carol Danvers, who is the only one, aside from Thanos, who cares that the same thing is happening across thousands of planets.
Various critics have discussed whether Thanos's population reduction strategy would work – at least in terms of halving the human population of Earth. And they generally conclude that it wouldn't.
But this is an over-simplification of the movie's message. The specific population reduction strategy Thanos employs can also be read as a broader environmental goal – to "restore" ecological balance. Climate change, pollution, species extinctions, overpopulation, resource use and distribution are all connected parts of the broader issue of environmental sustainability. The question is not, is population reduction a viable strategy? (Probably not.) Nor even, would a reduced human population be good for the planet? (Perhaps, if it were sustainable.)
The question Endgame poses for us is, are we willing to make personal sacrifices to save our own futures? To which the answer is a categorical no.
Felipe Trueba/EPA/AAP
Our greatest fears
Eco-catastrophe fiction is often castigated for not being scientifically accurate, and for failing to promote action on any of the various threats that face our planet – overpopulation, pollution, extinction, nuclear fallout, climate change. But when my colleague and I looked at climate change fiction across the centuries, we found that such stories are not about providing answers to our problems, but articulating our greatest fears. These stories – in book or movie form – are reflections of how society imagines the world of the future.
Eco-catastrophe stories have been a part of our culture from the earliest mythological stories of floods, fires, eruptions and storms. These stories of punishment and redemption form the foundation for much of our literature, not least that of superheroes with god-like or even godly powers.
Read more: When the Bullin shrieked: Aboriginal memories of volcanic eruptions thousands of years ago
The emergence of both the novel (and modern science) in the 17th and 18th centuries saw a growing awareness of environmental change reflected in fiction. Early Romantic literature may have seen climate change as a metaphor for social progress and human advancement into a Utopia, but that rapidly shifted into the dystopian fears that dominate environmental fictional literature today.
From the mid-19th century onwards, fiction, and particularly science fiction, closely tracked developments in science. Our deeper understanding of past ice-ages and the influence of solar variation, geological instability and the oscillations of the earth on climate, emerged in stories like Gabriel De Tarde's Underground Man, S Fowler Wright's Deluge and William Wallace Cook's Tales of Twenty Hundred.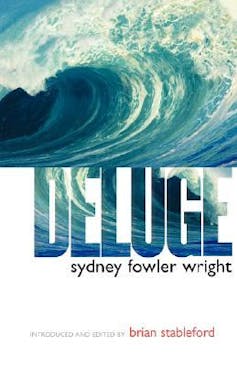 Authors: Danielle Clode, Senior Research Fellow in Creative Writing, Flinders University
Read more http://theconversation.com/friday-essay-is-this-the-endgame-and-did-we-win-or-did-we-lose-117172