Written by

Michelle Grattan, Professorial Fellow, University of Canberra
Kristina Keneally is continuing her rise and rise, appointed to "shadow" Home Affairs minister Peter Dutton, in Anthony Albanese's frontbench bench line up announced on Sunday.
After last week obtaining a place in the shadow ministry and becoming Labor's deputy Senate leader, with two men standing aside to make way for her, Keneally now takes on one of the toughest players in the Coalition. She'll also cover immigration, which comes under the home affairs portfolio but has a separate minister in the government's ranks.
At Bill Shorten's side all through the election campaign, Keneally didn't recoil from the task of head kicking. She called Dutton a "thug" and "the most toxic man in Australian politics".
Dutton is a head kicker from way back. On Sunday he was quickly out of the blocks."Kristina Keneally I predict will be somebody who is very spiteful, very nasty and very personal in her attacks, that's been her history, he said, adding, "I'm not going to attack Kristina Keneally on a personal basis".
They could make the perfect matchup for those into political bloodsports.
Home Affairs to continue under Labor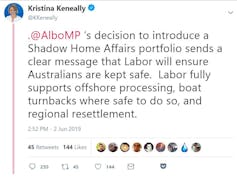 Authors: Michelle Grattan, Professorial Fellow, University of Canberra
Read more http://theconversation.com/view-from-the-hill-kristina-keneally-vs-peter-dutton-should-produce-plenty-of-political-bloodsport-118171