Written by

Owain Emslie, Associate, Grattan Institute
Inheritances can have an enormous impact on finances and lives.
Yet in Australia we know surprisingly little about who gets them and how big they are.
New Grattan Institute research provides some answers.
Inheritances are big and growing
A sample of estates from Victoria's probate office suggests the median estate in Victoria is worth around A$500,000. That's likely to be close to what it is Australia-wide.
But many are much larger. About 20% are worth more than A$1 million, and 7% are more than A$2 million. Property is the largest component, accounting for about half of the average value.
The main beneficiaries of "final" estates (estates without a surviving spouse) are children, who receive about three-quarters of all inheritance money.
Other family members, such as nieces, nephews and grandchildren, receive about 20%. Friends get about 4%, and charities 2%.
Read more: For the first time in a long time, we're setting up a generation to be worse off than the one before it
Average inheritances are growing about 2 percentage points faster than inflation each year, which is a good deal faster than wages or gross domestic product.
There are reasons to believe they will soon grow even faster.
Net wealth has grown strongly among older households. Households headed by people aged over 75 now have an average of A$1 million in assets, up from A$400,000 for a household headed by a person of the same age in 1994.
And most retirees don't draw down on their savings.
Indeed, many are net savers through much of their retirement, meaning there's only one place their accumulated property and superannuation wealth can go: into bequests.
Inheritances are going to the already old…
These days, inheritances generally don't arrive when people are saving for a house or trying to raise a young family.
More than 80% of money passed down from parents goes to people aged 50 and over.
The most common age bracket in which people to receive an inheritance from parents is 55-59.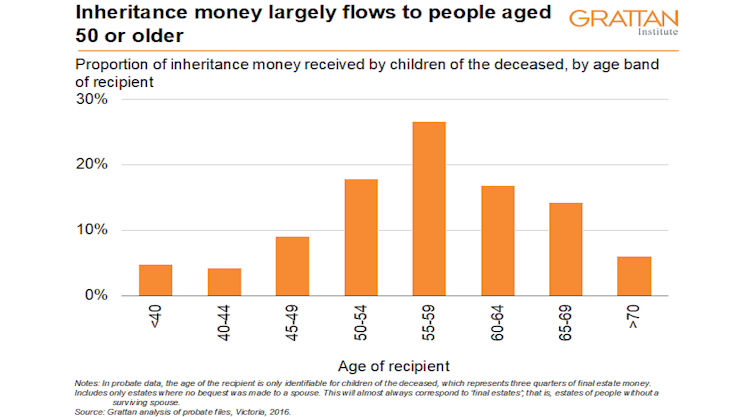 Authors: Owain Emslie, Associate, Grattan Institute
Read more http://theconversation.com/rethink-inheritances-these-days-they-no-longer-help-the-young-they-go-to-the-already-middle-aged-122029