Written by

Peggy Kern, Associate professor, University of Melbourne
The Portal follows six individuals who undergo a personal transformation from trauma and struggle to calmness, self-acceptance, and compassion towards others. These personal changes are intertwined with contemplations about the broader struggles facing humanity and the role of technology.
The underlying claim is that stillness is not only a portal for personal transformation, but also a portal that ignites human potential for global transformation. The filmmakers contend that meditative practice has the power to move humankind from being on the verge of disconnection, chaos, and crisis to connection, calmness, and enlightenment.
While this might seem far-fetched, the film – slickly produced with stunning imagery – effectively captures our individual and collective challenges, highlighting the benefits people have experienced through various contemplative practices, and offering a hopeful vision of human potential.
Noise and haste
The movie begins with a powerful cacophony of noise, voices, and images – building up to a feeling of distress and a call to action that "something's got to change".
This sense of disruption, disconnection, and chaos then unfolds through the lives of six people from a range of backgrounds.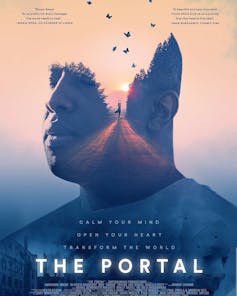 Authors: Peggy Kern, Associate professor, University of Melbourne
Read more http://theconversation.com/the-portal-review-can-meditation-change-the-world-123513