Written by

Elizabeth Stephens, ARC Future Fellow and Associate Professor of Cultural Studies, The University of Queensland
Australia's coronavirus public health messaging has been criticised as confusing during a time when health guidelines and regulations are changing rapidly, and educating the public about health is more vital than ever.
The slow roll-out of its public information campaign of videos and posters, urging people to wash their hands and keep their distance, has also been criticised.
But we've known how pandemic public health messaging works since the 1918 influenza pandemic, a largely forgotten, but important historical precedent for the current crisis.
We know from 1918 that pandemic public health messages need to be communicated widely and clearly, and to be consistent with government messaging and policies.
For this, messaging needs to be regulated by centralised, government agencies.
So which lessons has Australia learnt from the past?
Read more: How Australia's response to the Spanish flu of 1919 sounds warnings on dealing with coronavirus
Communicating widely works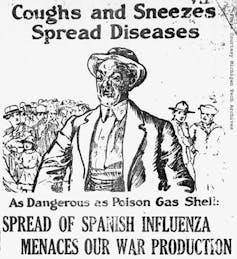 National Museum of Health and Medicine

,

Author provided
Public health education campaigns have long played a pivotal role in managing public health, especially in moments of crisis.
Public health education, as we know it, is just over a century old. It is a product of the first world war, when more soldiers died of disease than injury.
Many of the earliest public health education campaigns focused on curbing the transmission of infectious diseases, more specifically, using posters to warn about venereal diseases (sexually transmitted infections).
But there are only a handful of posters warning about the influenza pandemic of 1918, which would go on to kill 50-100 million people, many times more than the war itself.
Partly this is because influenza broke out during the final stages of the war, when national resources were stretched thin.
It is also perhaps because it was initially overshadowed by that other great epidemic disease of the 19th century: tuberculosis.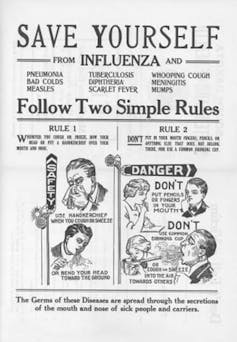 US Library of Congress

,

Author provided
However, as influenza spread around the world with returning servicemen in 1918, efforts were made to slow its transmission through new public health education initiatives, such as distributing information flyers.
The US city of Philadelphia, for instance, distributed 20,000 flyers warning about the transmission of influenza in 1918.
At the same time, however, it also decided to proceed with a large public parade, which attracted 200,000 thousand people.
Within three days, every hospital in Philadelphia was full. By the end of the first week, 2,600 people had died. Six weeks later, over 12,000 were dead.
But the city of St Louis moved quickly to introduce measures like the ones we see today: shutting schools, cinemas, churches, and businesses. Some 700 died.
The difference between Philadelphia and St Louis is one of the most important lessons to learn from the 1918 influenza epidemic: "flattening the curve" works to limit transmission of infectious diseases, minimising the impact on health services.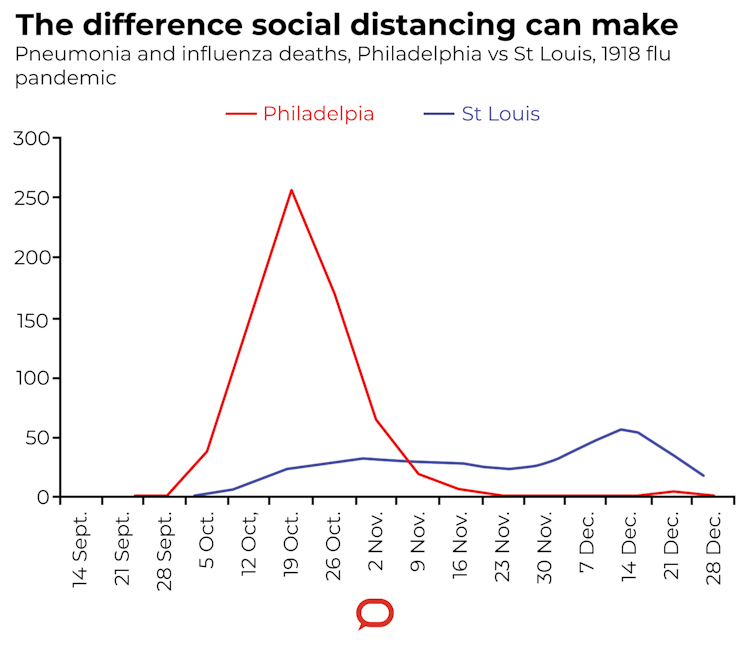 Authors: Elizabeth Stephens, ARC Future Fellow and Associate Professor of Cultural Studies, The University of Queensland
Read more https://theconversation.com/weve-known-about-pandemic-health-messaging-since-1918-so-when-it-comes-to-coronavirus-what-has-australia-learnt-134797