Written by

Pingping Han, Postdoctoral Research Fellow, The University of Queensland
Saliva is one of our biggest foes in the COVID-19 pandemic, because of its role in spreading the virus. But it could be our friend too, because it potentially offers a way to diagnose the disease without using invasive nasal swabs.
Our research review, published in the journal Diagnostics, suggests saliva could offer a readily accessible diagnostic tool for detecting the presence of SARS-CoV-2, the virus that causes COVID-19, and might even be able to reveal whether someone's immune system has already encountered it.
COVID-19 testing is a crucial part of the pandemic response, especially now countries are gradually lifting social distancing restrictions. This requires widespread, early, accurate and sensitive diagnosis of infected people, both with and without symptoms.
Our review looked at the results of three different studies, in Hong Kong, the nearby Chinese mainland city of Shenzhen, and Italy. All three studies found SARS-CoV-2 is indeed present in the saliva of COVID-19 patients (at rates of 87%, 91.6%, and 100% of patients, respectively). This suggests saliva is a potentially very useful source of specimens for detecting the virus.
Read more: The positives and negatives of mass testing for coronavirus
Saliva spreads the SARS-CoV-2 virus via breathing, coughing, sneezing, and conversation, which is why guidelines suggest we maintain a distance of at least 1.5 metres from one another. We also know SARS-CoV-2 can survive in tiny droplets of saliva in an experimental setting.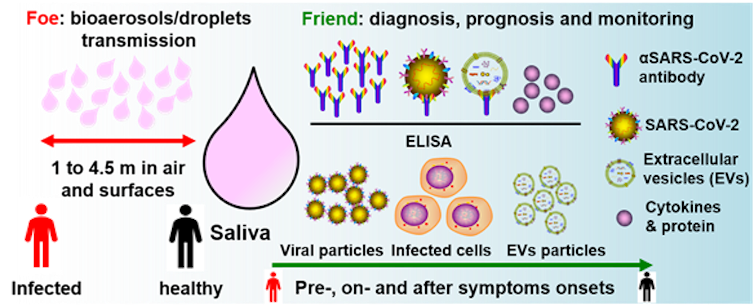 Authors: Pingping Han, Postdoctoral Research Fellow, The University of Queensland
Read more https://theconversation.com/keep-your-nose-out-of-it-why-saliva-tests-could-offer-a-better-alternative-to-nasal-covid-19-swabs-138816