Written by

Shih-Wen Sue Chen, Senior Lecturer in Writing and Literature, Deakin University
With remarkable speed, numerous children's books have been published in response to the COVID-19 global health crisis, teaching children about coronavirus and encouraging them to protect themselves and others.
Children's literature has a long history of exploring difficult topics, with original fairy tales often including gruesome imagery to teach children how to behave. Little Red Riding Hood was eaten by the wolf in a warning to young ladies to be careful of men. Cinderella's stepsisters had their eyes pecked out by birds as punishment for wickedness.
More recently, picture books have dealt with issues including September 11, the Holocaust, environmental issues and death.
But this wave of coronavirus books is unique, being produced during a crisis rather than in its aftermath.
Many have been written and illustrated in collaboration between public health organisations, doctors and storytellers, including Hi. This is Coronavirus and The Magic Cure both produced in Australia.
These books explore practical ways young children can avoid infection and transmission, and provide strategies parents can use to help children cope with anxiety. Some books feature adult role models, but the majority feature children as heroes.
The best of these books address children not just as people who might fall ill, but as active agents in the fight against COVID-19.
Our top picks
Coronavirus: A Book for Children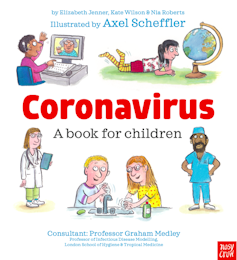 Authors: Shih-Wen Sue Chen, Senior Lecturer in Writing and Literature, Deakin University
Read more https://theconversation.com/p-is-for-pandemic-kids-books-about-coronavirus-138299