Written by

Iain Lawrie, PhD Candidate, University of Melbourne
As we re-open our economy and workers gradually return to workplaces, overall travel will increase. However, the need to maintain social distancing means public transport can't operate at usual capacity. And fears of crowded public transport will lead to commuters making a much higher proportion of trips in private vehicles – unless they are offered viable alternatives such as the ones we discuss here.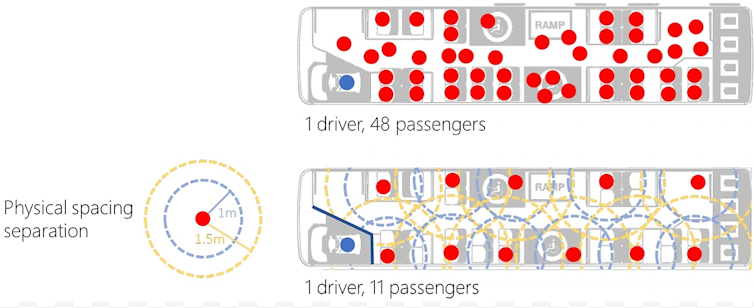 International Transport Forum, OECD
Our initial analysis (as yet unpublished) of Australia's major cities suggests a shift to cars will produce severe traffic congestion if even a modest proportion of the workforce returns to their usual workplaces during the COVID-19 recovery. In this article, we suggest some public transport solutions to avoid congestion caused by a shift to car travel.
Read more: Coronavirus recovery: public transport is key to avoid repeating old and unsustainable mistakes
Globally, this trajectory is already becoming apparent. As lockdowns are eased, car use is rising much more quickly than public transport use. The latest figures from cities as diverse as Berlin, Los Angeles, Chicago, Auckland and Sydney all show this.
What are the implications of this trend?
First, the shift to private vehicles will be a bigger problem in cities with centres traditionally served by public transport than dispersed, car-dominated regions. Modelling by Vanderbilt University in the US showed an 85% shift of mass transit riders to cars would increase daily commute times by over sixty minutes in New York, but merely four minutes in Los Angeles. This is because public transport serves a mere 5% of journeys to work in Los Angeles but 56% in New York.
In cities that rely heavily on public transport, or even those with car-dominated suburbs but transit-dominated centres such as Sydney and Melbourne, a shift to cars for CBD trips will very quickly overwhelm the capacity of the road network. Pre-pandemic, 71% of trips to the Sydney CBD and 63% to Melbourne's CBD were on public transport. So, while travel volumes may remain well below pre-pandemic levels for some time, road traffic is recovering faster than other travel modes.
Sydney's and Brisbane's road traffic volumes have already returned largely to pre-pandemic levels even while most CBD offices remain empty. Melbourne isn't far behind. Returning commuters are in for a shock.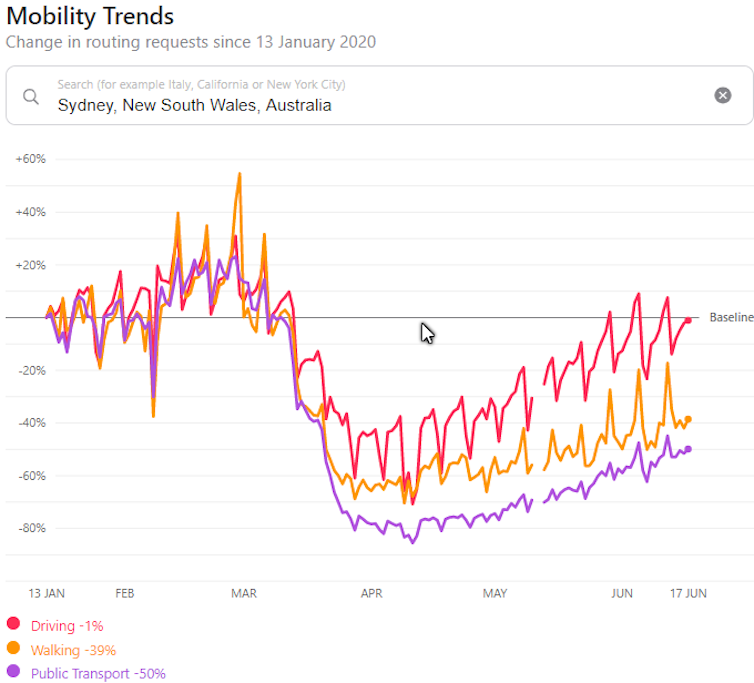 Authors: Iain Lawrie, PhD Candidate, University of Melbourne
Read more https://theconversation.com/how-to-avoid-cars-clogging-our-cities-during-coronavirus-recovery-140744