Written by

Blair Williams, Associate Lecturer, School of Political Science and International Relations, Australian National University
Why are there so few women at the top levels of politics? This question is at the centre of the new book, Women and Leadership, co-authored by Australia's first woman prime minister, Julia Gillard, and former Nigerian finance minister, Ngozi Okonjo-Iweala.
Using their personal experiences and interviews with an impressive group of eight women leaders - including Theresa May, Hillary Clinton, Jacinda Ardern and Christine Lagarde - Gillard and Okonjo-Iweala test various academic studies to see if their findings are reflected in reality.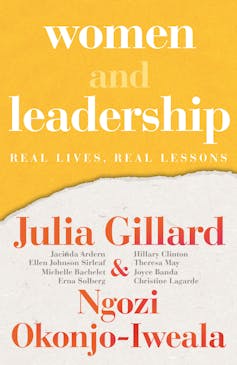 Authors: Blair Williams, Associate Lecturer, School of Political Science and International Relations, Australian National University
Read more https://theconversation.com/expect-sexism-a-gender-politics-expert-reads-julia-gillards-women-and-leadership-142725