Written by

Rachel Franks, Conjoint Fellow, School of Humanities and Social Science, University of Newcastle
In January 1788, a small floating society — eleven ships carrying crew, crooks, some military men and a few passengers — sailed into the body of water the colonisers called Port Jackson.
In the long term, there were ambitious plans for this new outpost of the British Empire. In the short term, this colony of thieves was all about crime and crime control; the details of which, from the mid-1800s, were published in what came to be known as the Police Gazette.
This fascinating record is the subject of a new online experience hosted by the State Library of New South Wales.
Sydney-based data visualisation designer and developer Brett Tweedie, has produced an extraordinary new data visualisation of almost 20 million words published in the Police Gazette from 1860 until 1900.
This new project, We Are What We Steal, was undertaken as a Digital Drop-In (a kind of small-scale Fellowship) at the State Library of New South Wales' innovation unit, the DX Lab.
As this work shows, our desire for the details of crimes is nothing new. We see in the Police Gazette, and we see more clearly through Tweedie's visualisations, the types of crime details that were important to capture in colonial New South Wales.

Brett Tweedie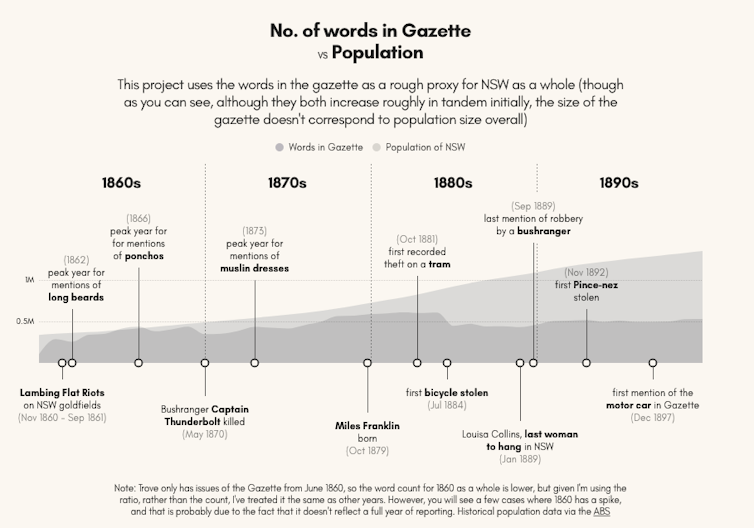 Authors: Rachel Franks, Conjoint Fellow, School of Humanities and Social Science, University of Newcastle
Read more https://theconversation.com/we-are-what-we-steal-the-new-south-wales-police-gazette-and-charting-histories-of-crime-131140