Written by

Michael Baker, Professor of Public Health, University of Otago
On Sunday, New Zealand will mark 100 days without community transmission of COVID-19.
From the first known case imported into New Zealand on February 26 to the last case of community transmission detected on May 1, elimination took 65 days.
New Zealand relied on three types of measures to get rid of the virus:
ongoing border controls to stop COVID-19 from entering the country

a lockdown and physical distancing to stop community transmission

case-based controls using testing, contact tracing and quarantine.
Collectively, these measures have achieved low case numbers and deaths compared with high-income countries in Europe and North America that pursued a suppression strategy.
New Zealand is one of a small number of jurisdictions – including mainland China, Hong Kong, Taiwan, South Korea, Vietnam, Mongolia, Australia and Fiji – pursuing COVID-19 containment or elimination. Most have had new outbreaks. The exceptions are Taiwan, Fiji and New Zealand.
Australia adopted very similar responses to the pandemic and it is important to note that most states and territories are in the same position as New Zealand. But Victoria and, to a lesser extent, New South Wales are seeing a significant resurgence.
Read more: Two weeks of mandatory masks, but a record 725 new cases: why are Melbourne's COVID-19 numbers so stubbornly high?
The key difference is that New Zealand committed relatively early to a clearly articulated elimination strategy and pursued it aggressively. An intense lockdown proved highly effective at rapidly extinguishing the virus.
This difference can be seen graphically in this stringency index published by Oxford University's Our World in Data.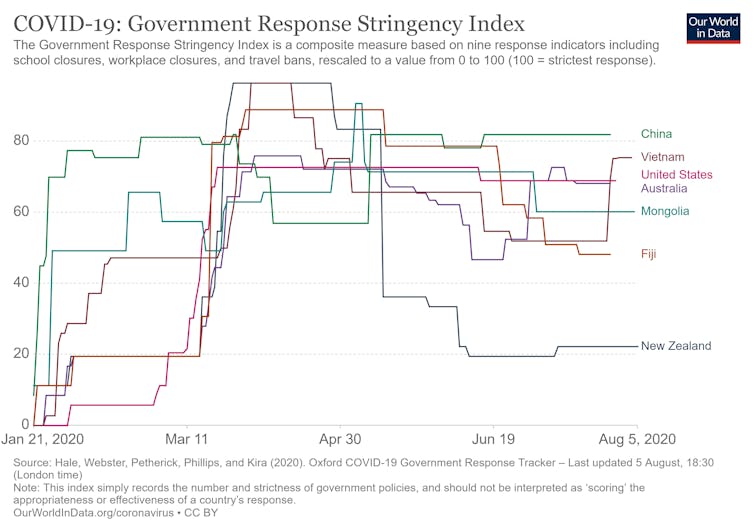 Authors: Michael Baker, Professor of Public Health, University of Otago
Read more https://theconversation.com/100-days-without-covid-19-how-new-zealand-got-rid-of-a-virus-that-keeps-spreading-across-the-world-143672