Written by

Rachel Franks, Conjoint Fellow, School of Humanities and Social Science, University of Newcastle
Book review: The Husband Poisoner, by Tanya Bretherton (Hachette).
Agatha Christie's first novel, The Mysterious Affair at Styles (1920), introduces her iconic Belgian detective, Hercule Poirot, and features her famous quip: "poison is a woman's weapon".
Of course, poison — sometimes referred to as Inheritor's Powder — is not gender specific. Rather, poison can simply be the preferred means of murder for clever criminals. Those who, as sociologist and author Tanya Bretherton points out:
… believed the perfect murder was possible if it could be made to look like something else entirely and no one even realised that a crime had been committed.
The title of Bretherton's fourth book, The Husband Poisoner: Suburban women who killed in post-World War II Sydney (2021), suggests a work focused on damaged, disgruntled or daring wives in the early 1950s who were looking for the perfect solution to an immediate problem. But she goes further to look at how other family members were also targeted. She also gives some clues to explain why seemingly ordinary women decided to try their hand at murder.
Read more: Friday essay: from convicts to contemporary convictions – 200 years of Australian crime fiction
Fact versus fiction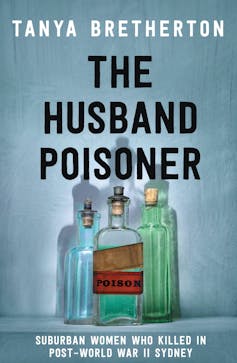 Authors: Rachel Franks, Conjoint Fellow, School of Humanities and Social Science, University of Newcastle
Read more https://theconversation.com/book-review-the-husband-poisoner-is-about-lethal-ladies-and-dangerously-tasty-recipes-154267