Written by

Michelle Grattan, Professorial Fellow, University of Canberra
A substantial minority of Chinese-Australians have experienced a backlash from the COVID-19 pandemic and the 2020 deterioration in bilateral relations, according to a survey from the Lowy Institute.
In the poll, 37% said they had been treated differently or less favourably in the past year because of their heritage and 31% had been called offensive names.
Nearly one in five (18%) said they had been physically threatened or attacked.
When those who'd had bad experiences were asked what they thought caused or contributed to that (COVID, Australia-China relations, other factors) 66% said COVID and 52% nominated the bilateral relationship, while 13% said other factors. Of the latter, 28% said racism.
On the positive side, 40% said someone had expressed support for them because of their heritage.
The Lowy report, Being Chinese in Australia, is based on a poll of 1040 who self-identify as of Chinese heritage. Australia has more than 1.2 million people of Chinese heritage. The poll, which received funding from the federal Department of Home Affairs, was done in November, in English and Mandarin.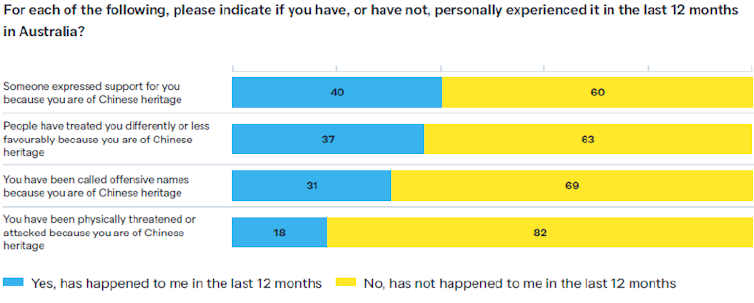 Authors: Michelle Grattan, Professorial Fellow, University of Canberra
Read more https://theconversation.com/chinese-australians-have-a-sense-of-dual-belonging-lowy-poll-156317