Written by

Lara Herrero, Research Leader in Virology and Infectious Disease, Griffith University
We recently heard a new "hybrid variant" of the coronavirus has been detected in Vietnam, amid a spike in cases in the country.
The variant was originally described as a hybrid of the UK (now Alpha) and Indian (now Kappa B.1.617.1 and Delta B.1.617.2) strains of the virus. But what does this actually mean? And if we look at the science behind virus behaviour, is a hybrid really what we're seeing?
What is a 'hybrid'?
In virology, the scientific name for a hybrid is a "recombinant". Recombination is when two strains infect a person at the same time and combine to make a new strain.
This process is common in influenza, where it's often called an "antigenic shift".
The major concern with viral recombination is the possibility the new strain will rapidly emerge with advantages of both strains, and you'll get, for example, a strain that's both more transmissible and faster at replicating. The same can be true for gradual mutation, but this takes more time.
Emerging evidence suggests coronaviruses can undergo recombination, which may have contributed to the origins of SARS-CoV-2, the virus that causes COVID-19. There's moderate evidence SARS-CoV-2 itself has undergone some recent recombination, with early reports suggesting a possible recombination event between an Alpha (B.1.1.7) and Epsilon (B.1.429) variant.
It's important to note these reports are early and some of the science is not yet peer-reviewed. So, the role of recombination in the evolution of SARS-CoV-2 still needs to be confirmed.
Read more: What's the difference between mutations, variants and strains? A guide to COVID terminology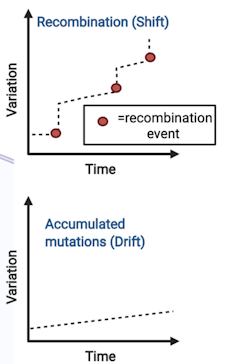 Authors: Lara Herrero, Research Leader in Virology and Infectious Disease, Griffith University
Read more https://theconversation.com/is-a-hybrid-covid-strain-behind-vietnams-latest-wave-not-exactly-161879